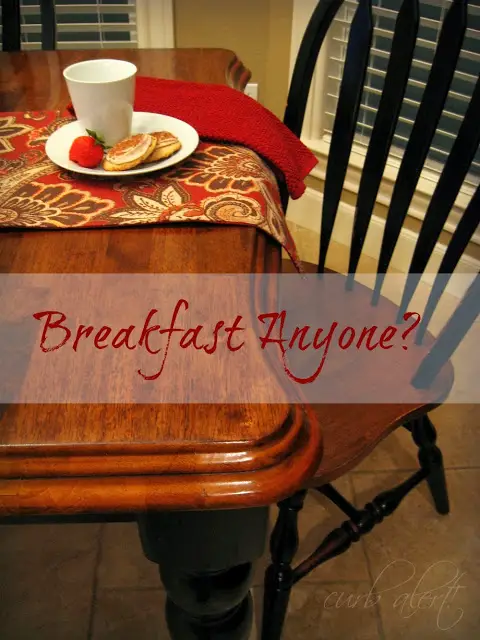 Hi friends!  How are you this morning?
I just realized that I have not showed you my "new" to me kitchen table!  I talked about it a bit on my
Facebook Page
and then never mentioned it since…like since July!  
I have a bit of a sweet tooth!
Let me back up and share that yesterday was a scary day for me.  I had a LOT of dental work done and not sure if I have ever mentioned before but I am terrified of the dentist.  Not sure why because the last few dentists I have seen have been very patient and outstanding but nevertheless I DREAD going.  I am still in a bit of pain and let's just say for now on I must not consume any more sugar in my life because my poor fragile teeth just cannot handle it no matter what I do to prevent tooth problems!  Thank goodness it is OVER…for now at least!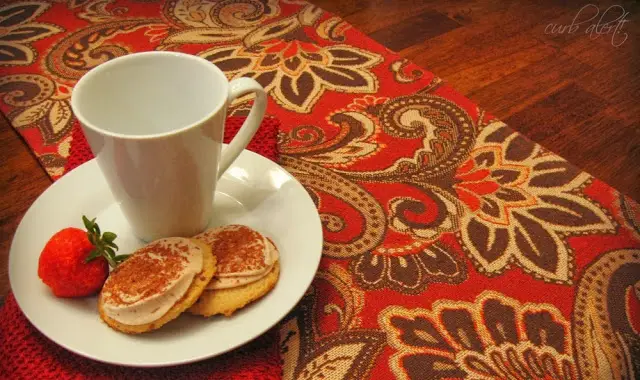 Just so you know that I don't really eat cookies for breakfast like in the above pic but they do look good in a photograph, especially with my new tablerunner that I purchased from the Better Homes and Garden Collection at Walmart.   I am a classy lady let me tell you! I also purchased six matching placemats.  Did you know that Walmart carries some tablerunners online that are priced between $125 and $300?  Yep! Those are NOT the one I purchased. Mine was $14.99. (MyLove almost had a coronary when he saw me type that!)
Back to the table, now that I'm down to my last strawberry! YUM! 
I found it advertised this summer on a local garage sale website and grabbed it quick.  It's a solid wood Farm Table with four chairs.  I was able to knock off $50 from the asking price with my fabulous bargaining skills and because I agreed to pick it up right away.  The base and chairs are in perfect condition but the top needed lots of work.  The previous owner had four kids under the age of seven and it looked like they definitely wore this table out. Did I mention it is super HEAVY?  I love it. 
Here is how it looked when I purchased it in July.
Before: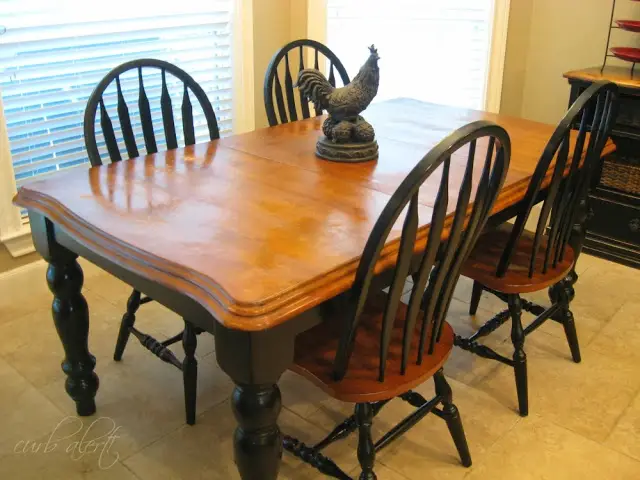 Blotchy finish and little or no poly left.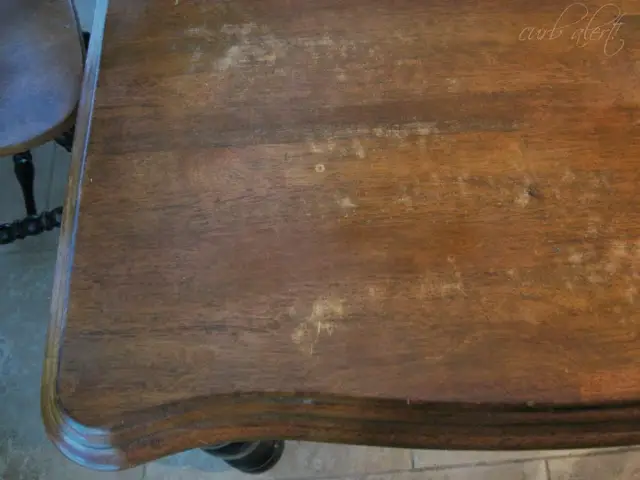 We used it like that for a month or so until my crazy kiddos went back to school I finally found some time to  to work on it.
During:
I started off by hand sanding it but nixed that idea quick for it took way too long.  I then got out the palm sander and did the job in no time! (in the thousand degree August Houston heat!)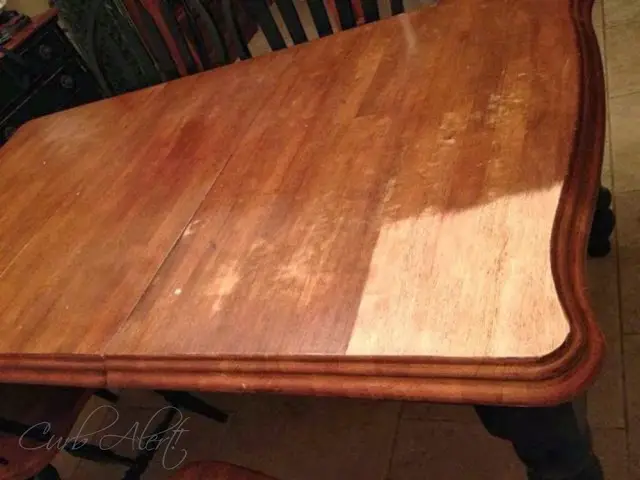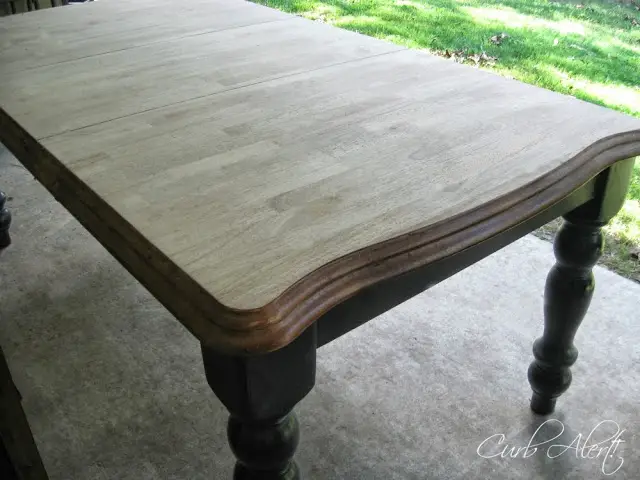 I convinced MyLove to let me stain and poly it in the house, which is a big no no but I was tired of sweating on the back porch.  I waited a few weeks until the weather cooled just a bit and then got to work. 
It was so nice, me all alone, no kids, husband out of town for a few days…just me and my little ole table project!  It felt good to be working on another piece of furniture! 
How I did it:
Minwax Wood Conditioner – 2 coats and allowed 12 hours drying time between each 
Minwax English Chestnut – I got crazy with 5 coats and allowed 12 hours drying time between each
(I kept adding a coat until I was able to match the edges of the table) 
Minwax Clear Gloss Poly – 4 coats and allowed 24 hours drying time between each
(lightly sanded with a fine grit sandpaper in between each coat) 
After: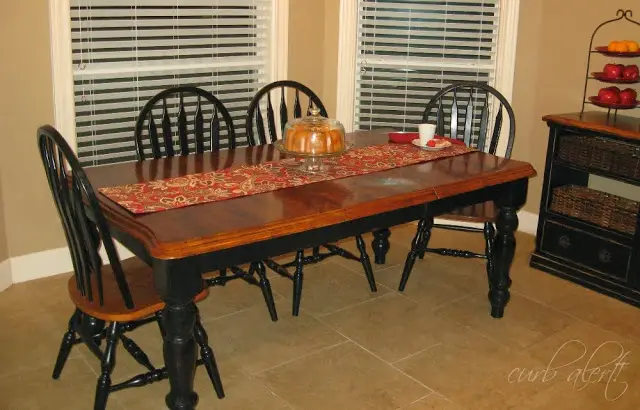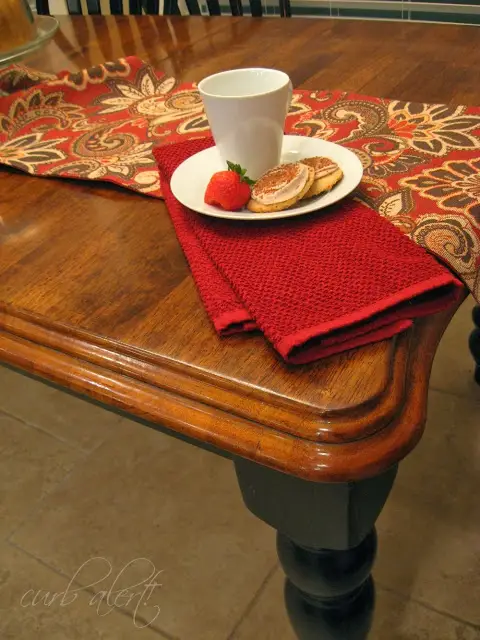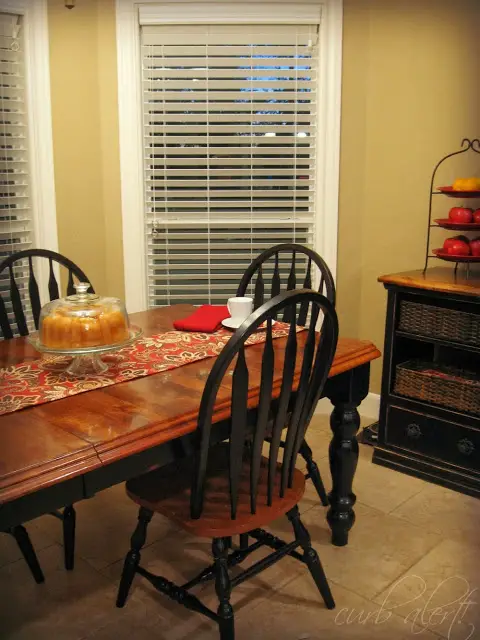 Cabinets (pic from the day we moved in):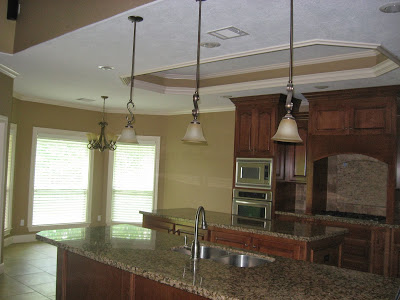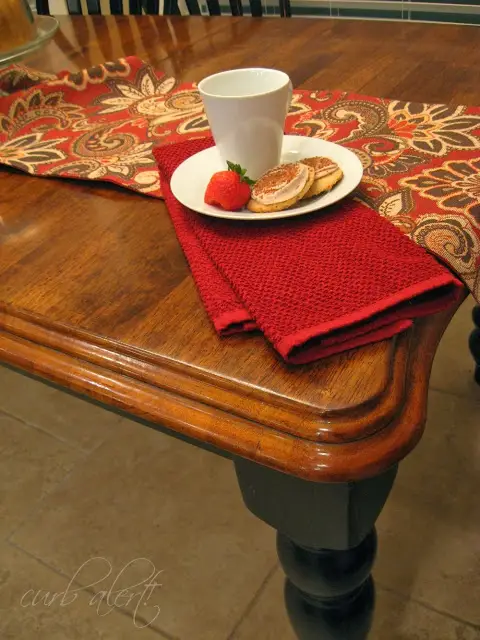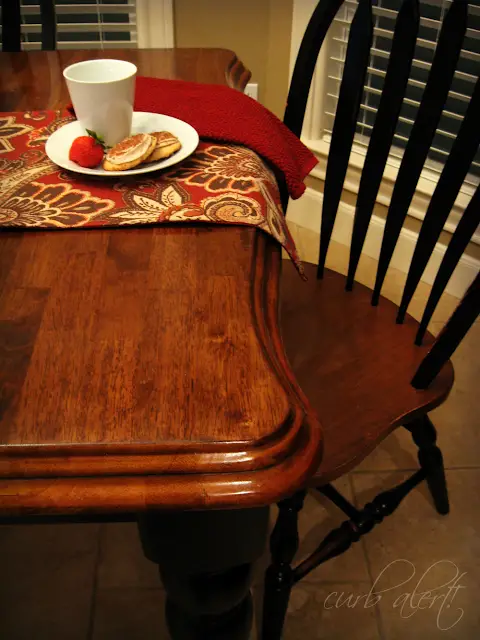 I swore I would not decorate with red again since my previous kitchen was red overload, you can
See it HERE
, but I love red so why give up something you love, right?  I promise to use it this time only in small doses.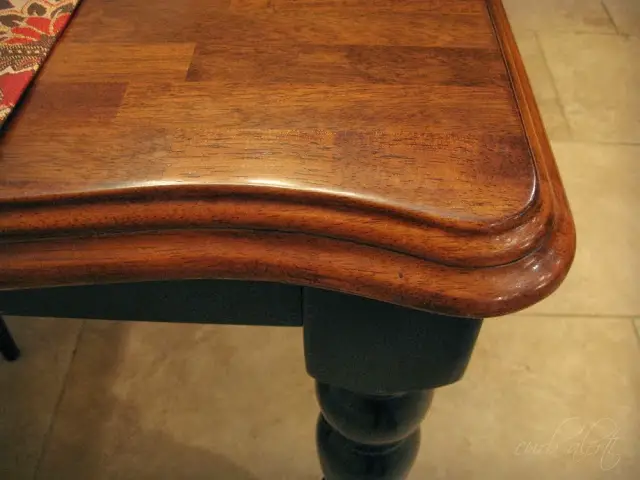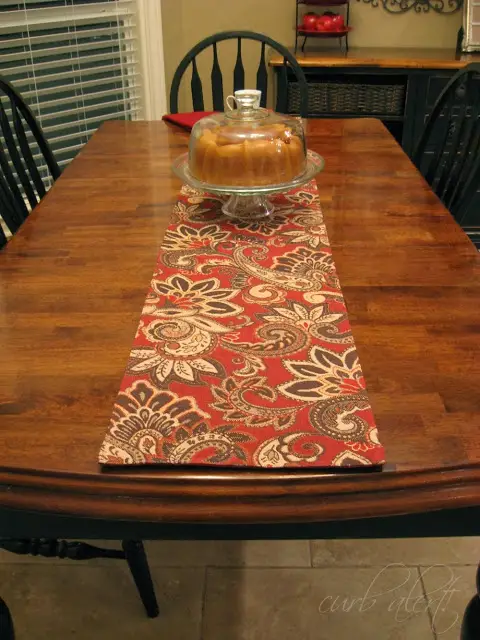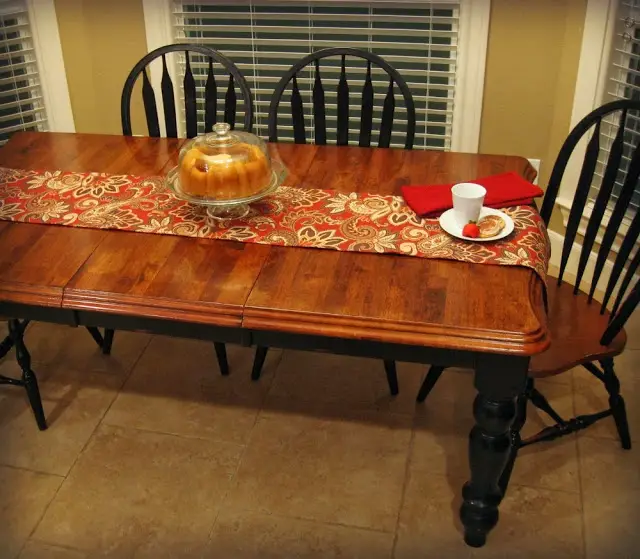 I am now searching for a matching bench as I think it would be a perfect addition, also because two of my children are having to stand at the table to eat (just kidding!)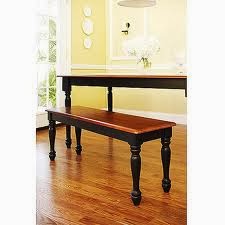 image via Walmart.com
(out of stock – boo!)
What do you think?  I think it fits well in the space and is perfect for our family!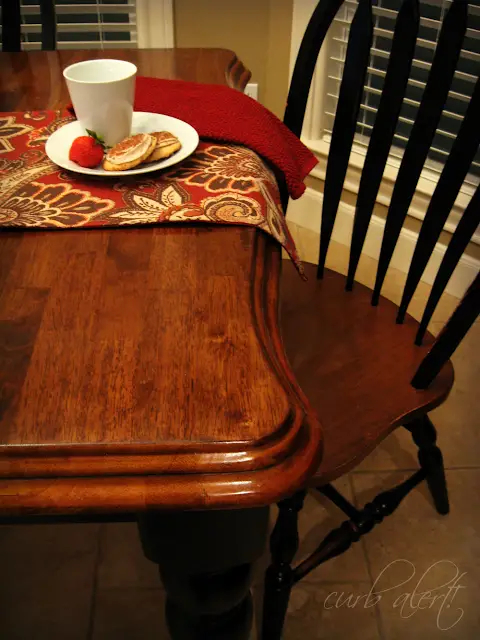 Thanks for sharing breakfast with me! I hope to see you again soon! 
If you use
Google+
I would love for you to follow me over there!