Hey there! Time is flying again and here we are smack dab in the start of a hot summer!
Today I am sharing this cute little dresser with you. A friend asked me to paint a dresser for her grand baby that was born last November on the night of the Super Moon. Okay, I can paint (furniture) but I don't consider myself an artistic painter so this is what I came up with.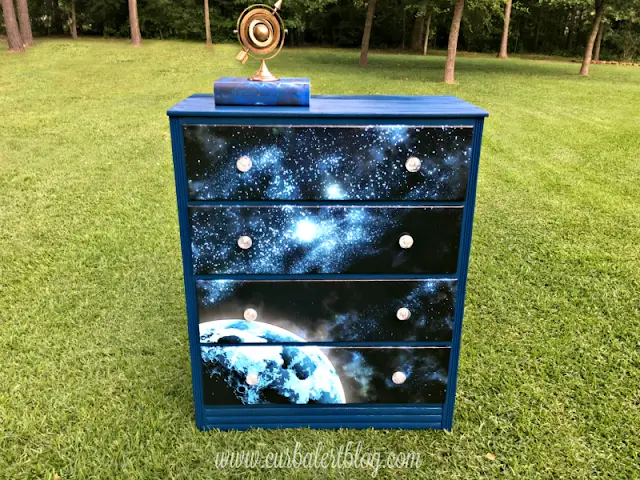 Scroll down below, click further to see how I did it. So easy that you can do it too! Just don't tell anyone that you really didn't paint it-we'll keep that between you and me!
My friend had very few requests: it had to be navy and match the baby's bedding. I pretty much had free reign on the rest.
Here is the picture she sent to me. You can find the same bedding Here.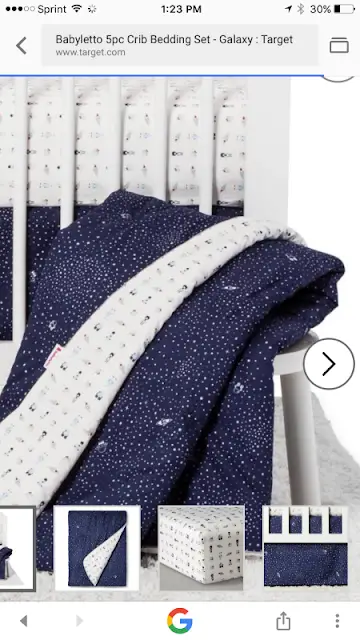 Adorable, right?
*Please note that this post contains affiliate links.You may click on the product pics to take you to the sources. See full disclosure below*
I'll tell you a little secret, I bought this dresser for only $12.99. Sounds great, right? Well it needed a bit of work to make it stable so I brought out my favorite little helpers, these Irwin Quick Clamps! (I included a link below the pic) Aren't they lovely? Looks like surgery going on here! Felt like it too!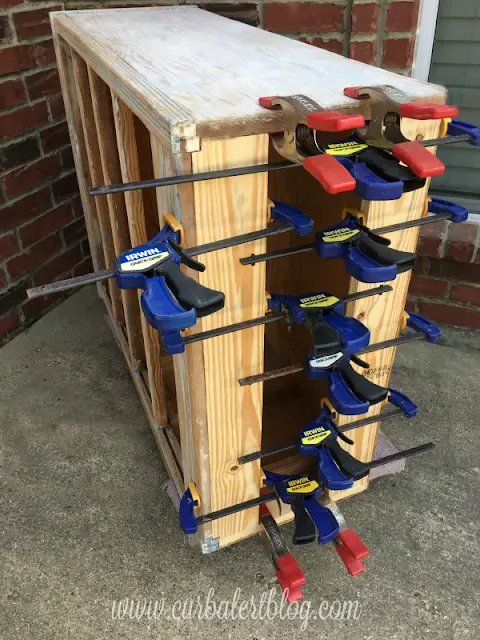 IRWINQUICK-GRIPOne-Handed Mini Bar Clamp 6 Pack, (2) 4-1/4″, (2) 6″, (2) 12″, 1964749
 I am in love with this sander and actually recently replaced my original sander with the exact same one (original was about 20yrs old!).
Now I have a blank slate to work on. On a side note, I feel like it's always better to go ahead and sand down furniture instead of just painting over the existing finish. You never know whats under the surface and it's better to have something more stable for the new paint to adhere to, just my opinion.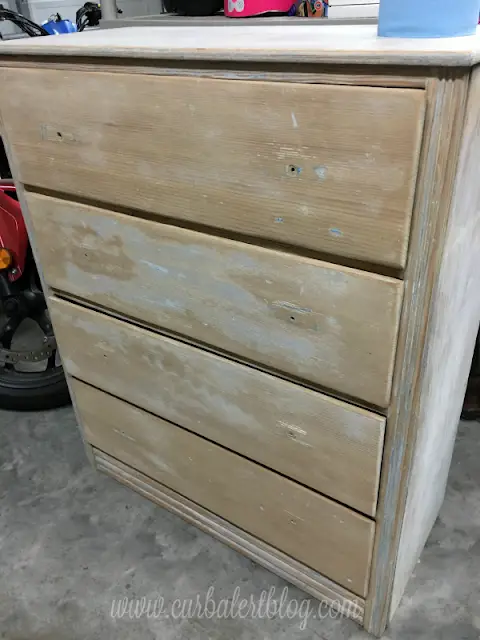 I then wiped it down with a 
3M 10132 Tack Cloth
 to get all of the remaining residue off. You'd be surprised at how much is still on there unseen by the naked eye!
 So I searched online and found a great poster and ordered it in an engineering print. My plan was to decoupage it onto the dresser. I had done it before with much success like on my
Martin Luther King Pallet Project
but I will be honest with you that this one turned out to be a project fail! I'm sharing the embarrassing pic to show you that it's not always the glamorous results the are shared with the final product… Ugggghhhhhhhh!!!!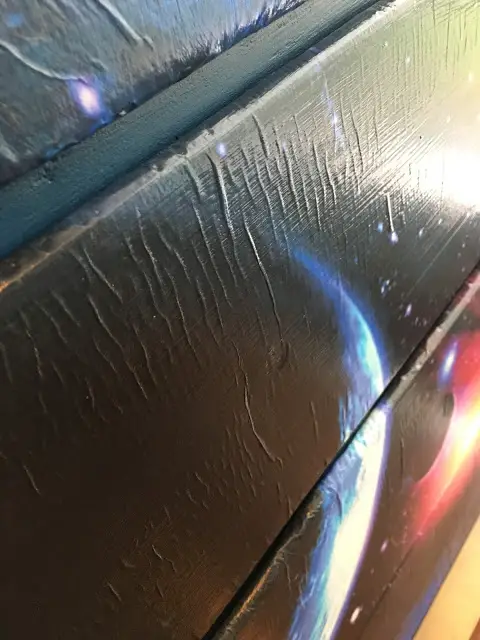 Sometimes we just have to pick up the pieces and go back to the drawing board and that's exactly what I did here. I cursed a little but scraped every bit of the print off of the drawers! NO fun!
This time I ordered a poster print from Zazzle.com.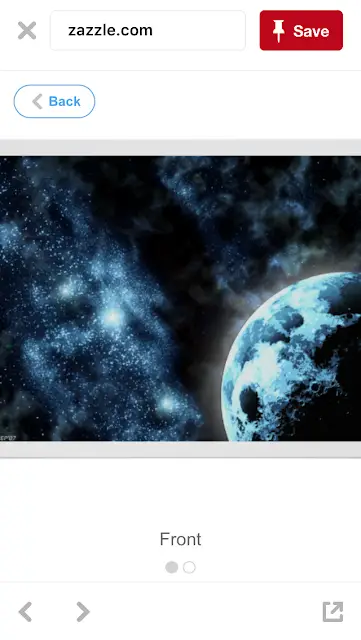 It's not the exact of the original print that I had planned but I actually think it looks more like what I think the Super Moon looks like. Perhaps it was meant to be until this…the poster arrived damaged! So frustrating! I quickly emailed the company and sent the the following picture and they quickly overnighted me a replacement. I was thrilled at the customer service.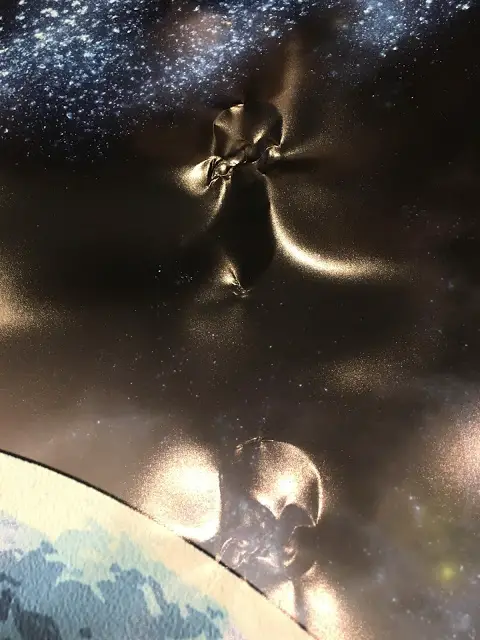 The next step was a repeat. I measured the drawer fronts and added and extra two inches to each side. I then cut the poster into strips and layed it out on top of the drawers and adhered them with ModPodge.
This time the posted adhered to perfection, no bubbles, no crinkles, creases, nothing! I let it dry overnight and then applied one coat of Minwax Polycrylic sealer.
It now has an amazing sheen that looks polished and ready for baby boy! The icing of the cake was these beautiful glass knobs that I found at Hobby Lobby. They look just like the moon!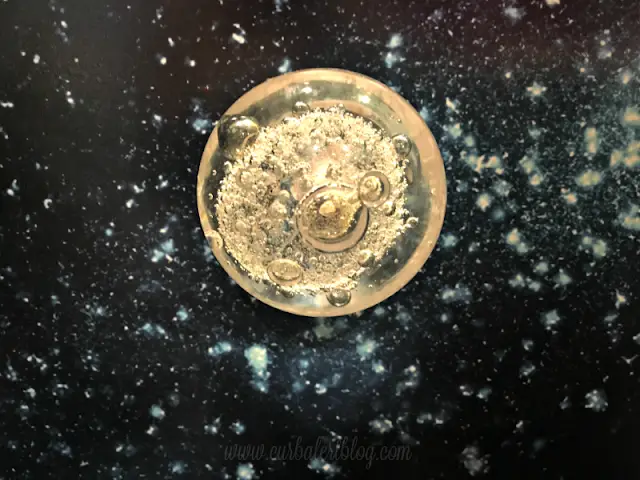 Some more pretty pictures.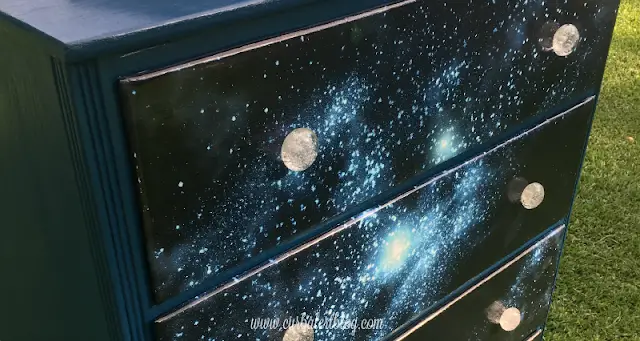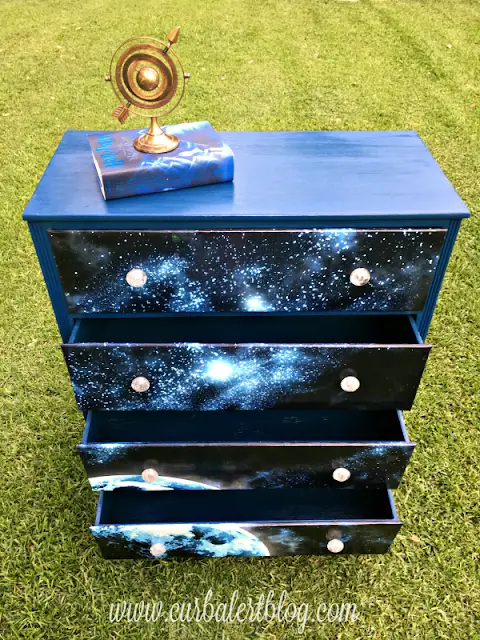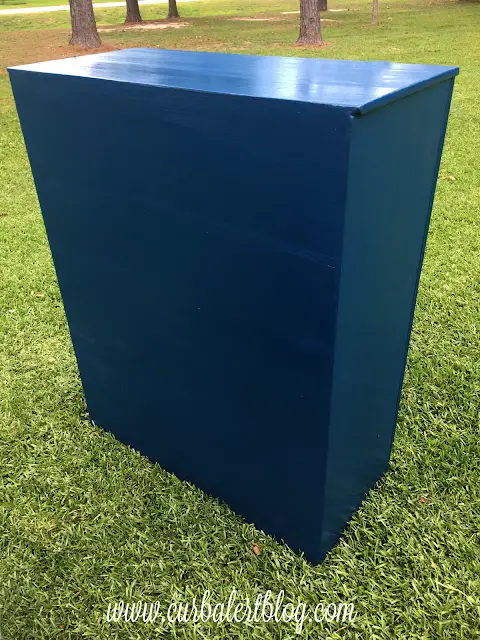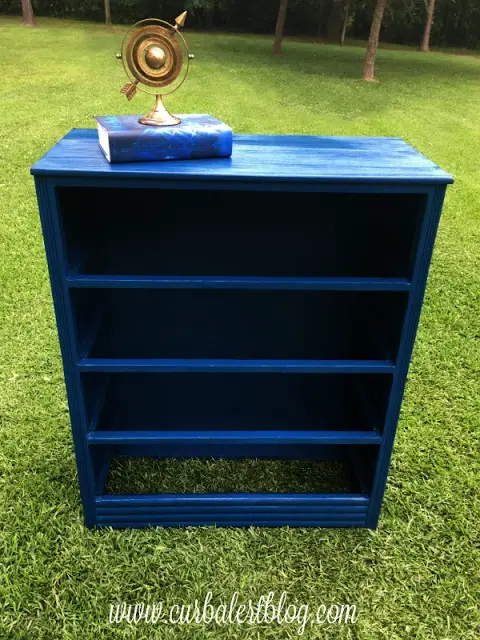 I left no stone unturned and painted the back, drawer insides and bottom. While doing so I discovered a little secret underneath – names of the previous owners with dates of the makeovers. I love it when a furniture piece reveals a bit of its history!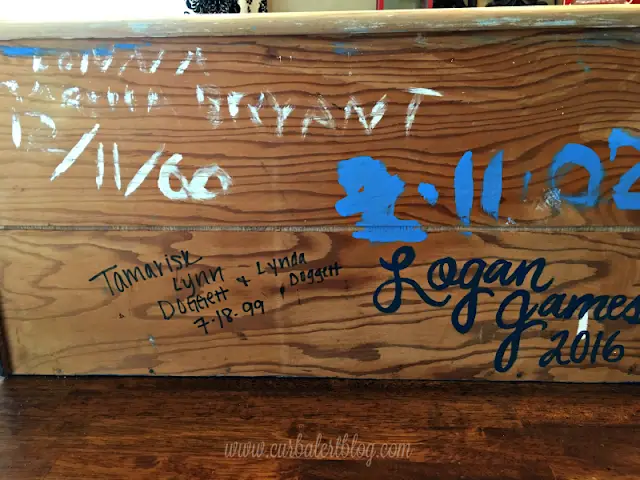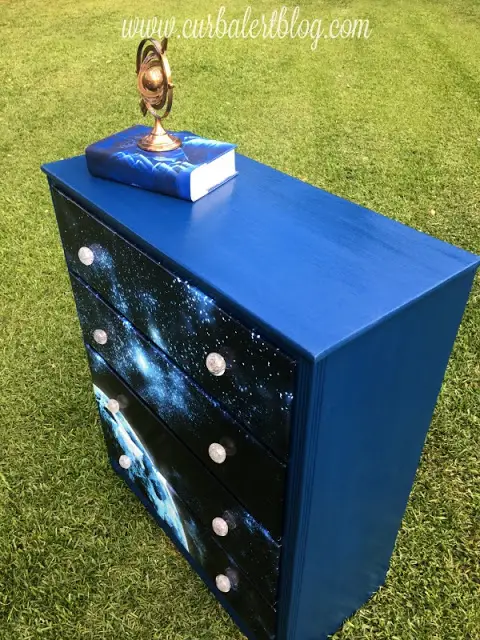 Thank you for allowing me to share my Navy Super Moon Decoupaged Dresser.
I hope my friend's grand baby enjoys it for many years to come!
Happy Treasure Hunting!
~Tami