The holidays are upon us!  I know, I know we just made it through Halloween but all of the department stores and catalogs have their holiday decorating in full force!
I find myself Ooooing and Ahhhhhing at all of the gorgeous glittery eye candy in abundant overload!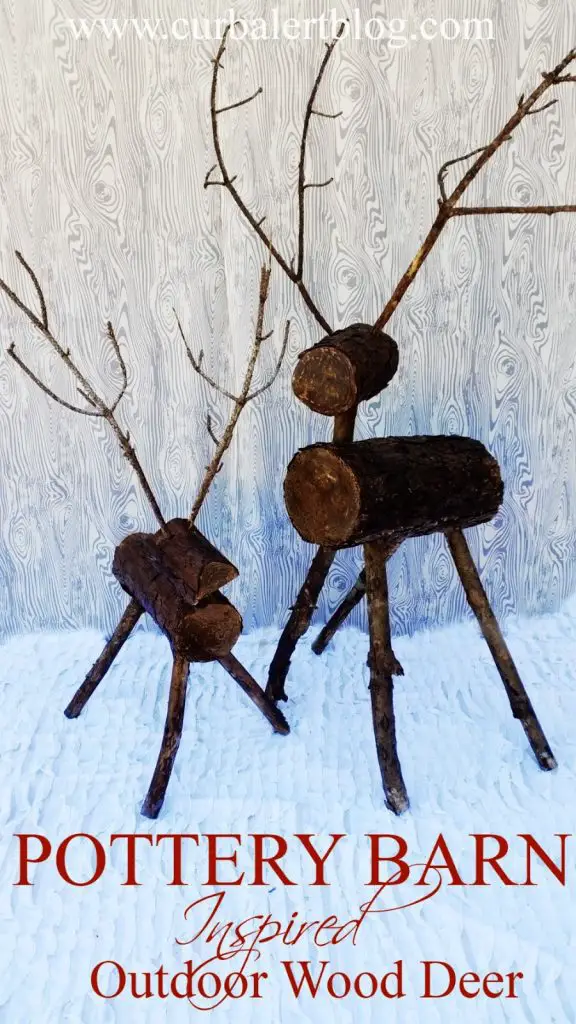 Ohhhhhh

 I love you!
But I
don't
admire your prices.
Why do I have something on my wish list from Every. Single. Page. of their Holiday Catalog!?!
Truthfully I cannot even think about knocking off some of their gorgeous home decor, but this one I thought I could give it a good try!
It cost me a bit of time and imagination and I'm as happy as can be!
Did you notice how much their Outdoor Deer cost?  $499! Ouch!
Oh wait, theirs is on sale this week for $424 (how generous of them!)
Okay so theirs is six feet tall and lights up, big deal, I'm still lovin' my little guys!
And what deer is actually over six feet tall anyway?
We started out with plenty of this…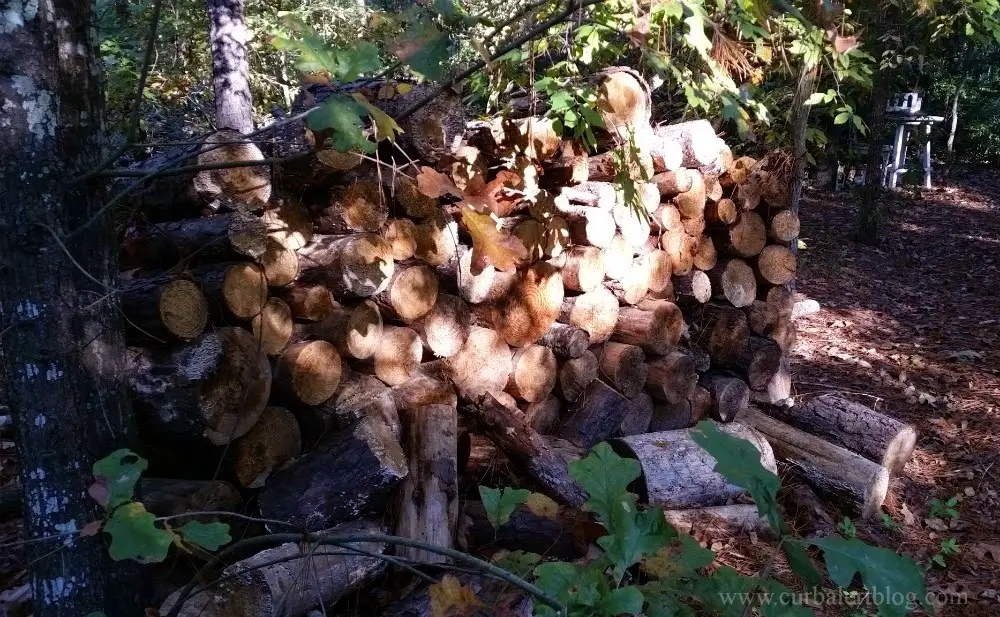 I cut a few pieces to size for the head and body, and drilled some holes for the neck and leg connections.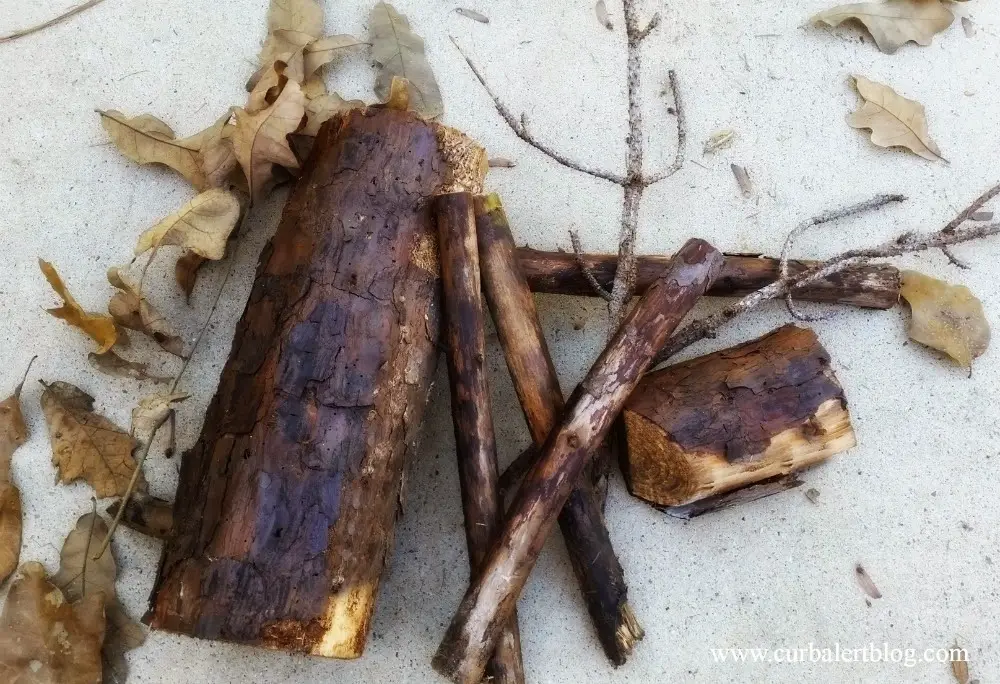 This is the head…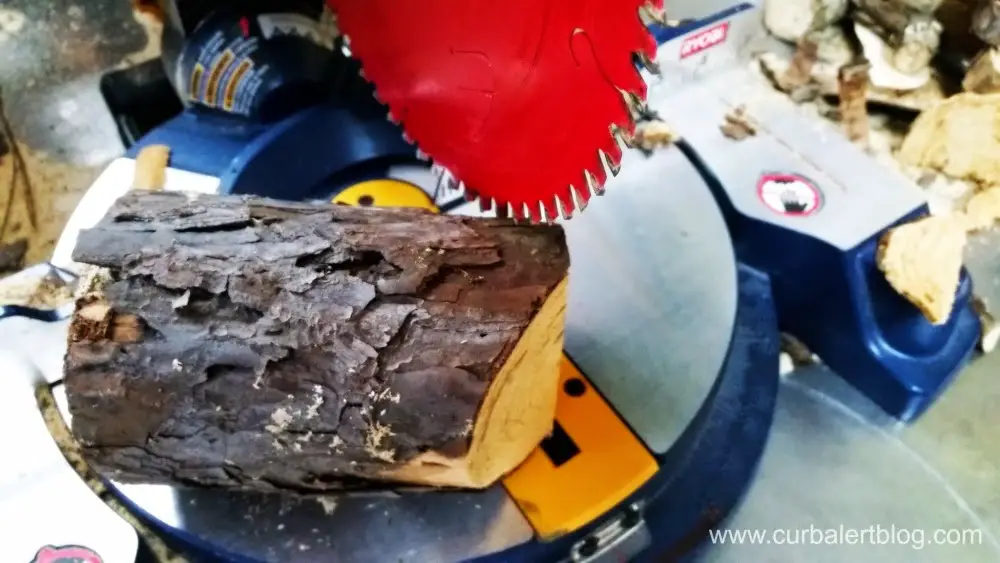 I used the precise sized drill bits.
These are awesome!…and messy! but fun to use.
(I definitely recommend wearing safety glasses)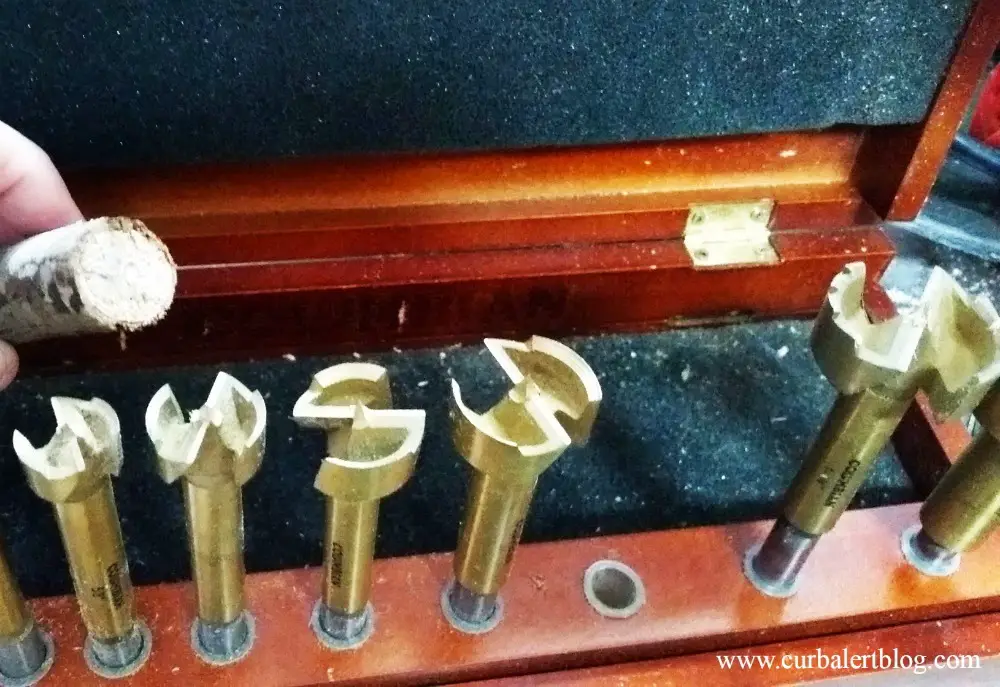 Drill one hole at the base of the head. (to attach the neck)
Drill one hole at the top of the body piece. (to attach the neck)
Drill four holes at the bottom of the body piece. (to attach the legs)
Did that make sense?
Well just in case those instructions are sketchy, here is a high-tech tutorial for you to make it more visual !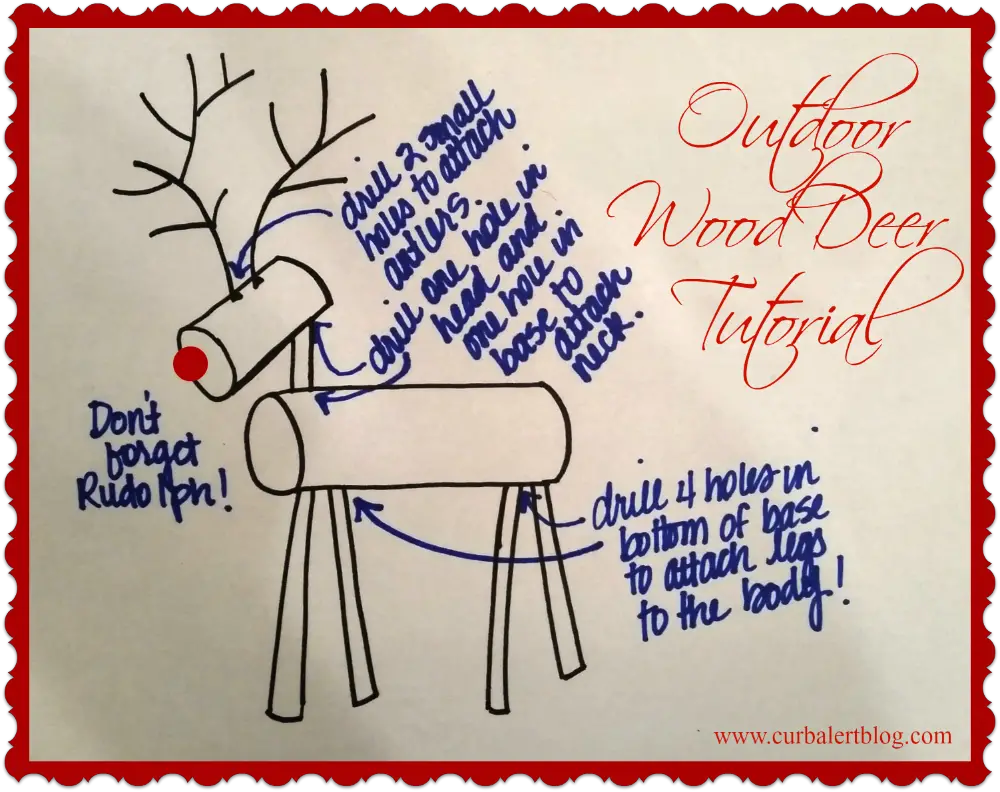 Easy Peasy, well sort of.  Make sure the pieces fit tight in the holes or else your wood deer will be wobbly – trust me, I know!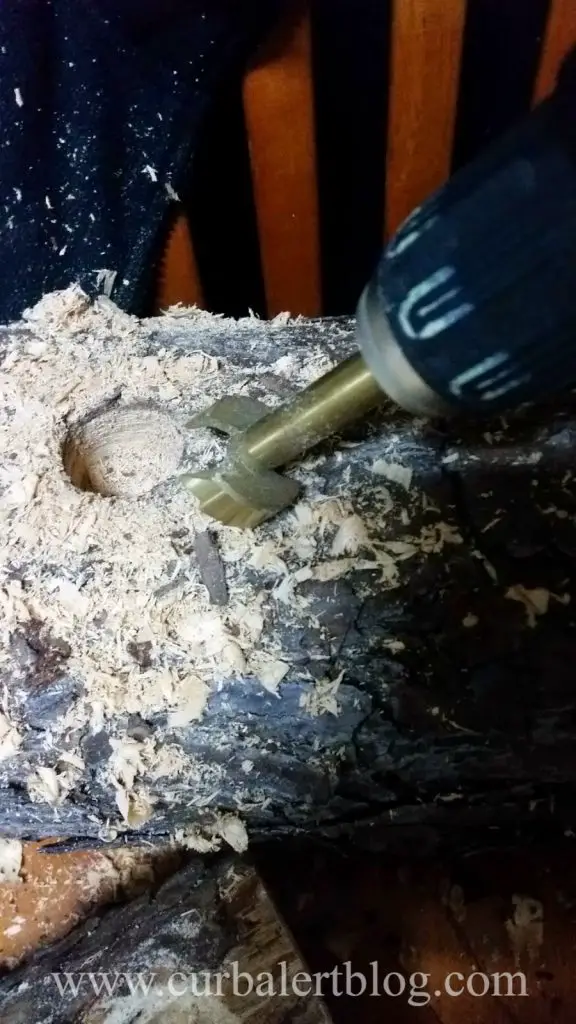 I had the perfect pine branches for the antlers, my favorite part!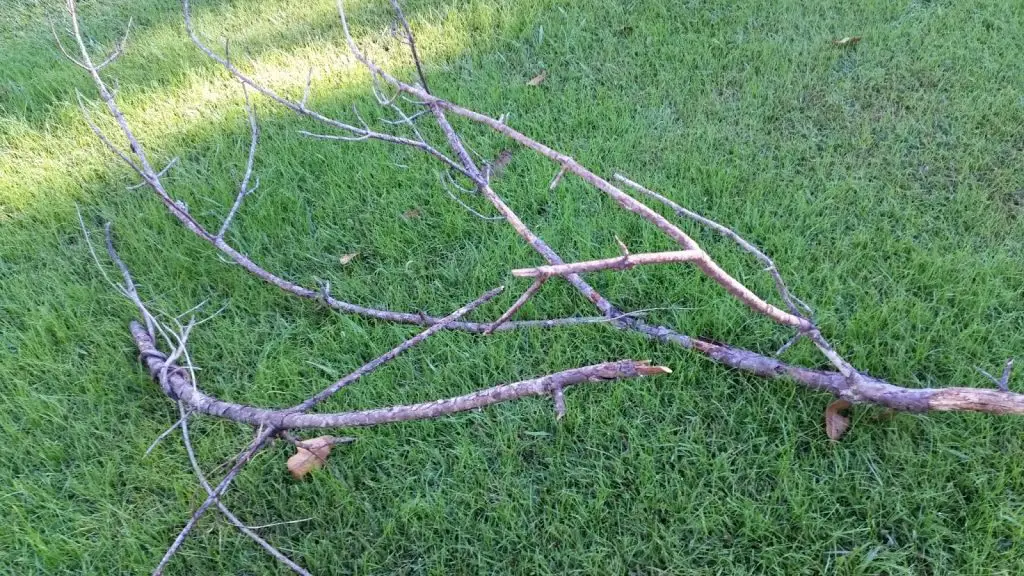 They are so cute!!!
I stained up the end pieces with Minwax Dark Walnut stain to make it more cohesive, although I think leaving it natural would have been okay too.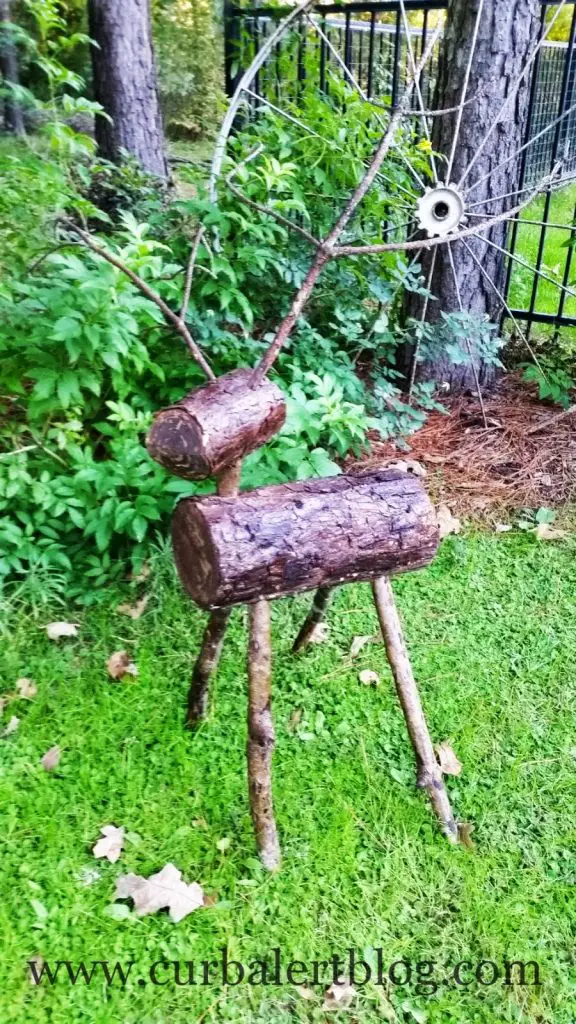 Once again, here's Pottery Barn's Version: $499.00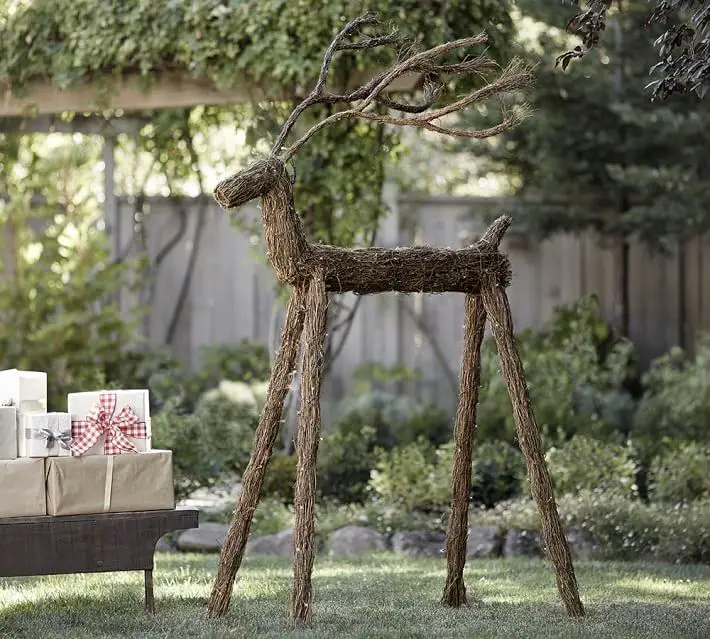 And here is my Free Version (in the wild! and in my yard!): $0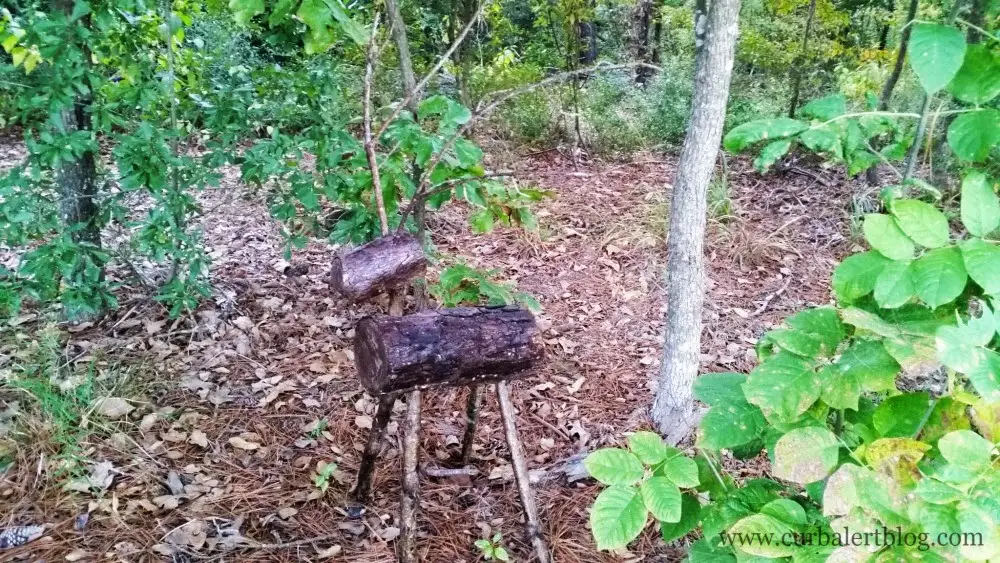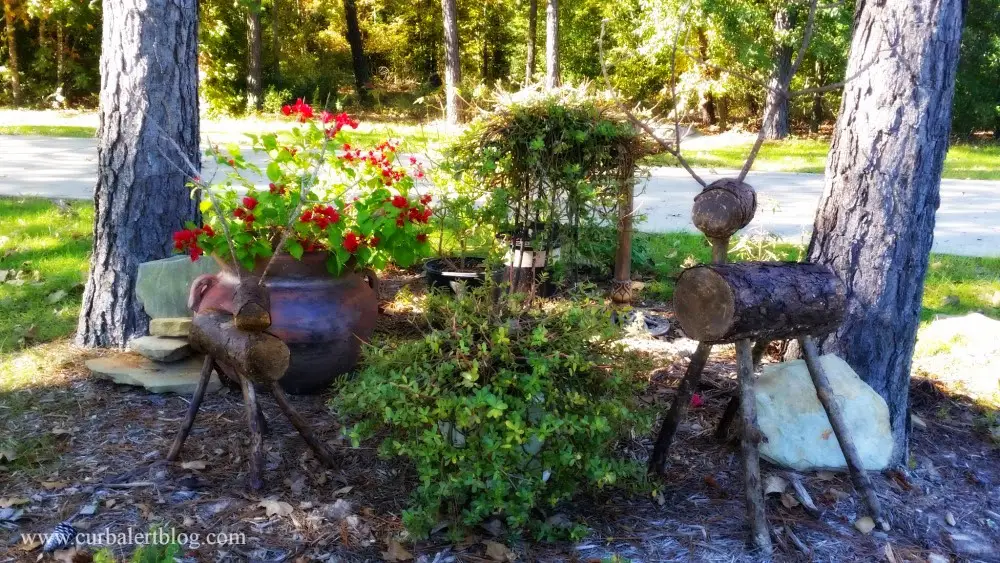 I think they will look great next month with some poinsettia plants out there.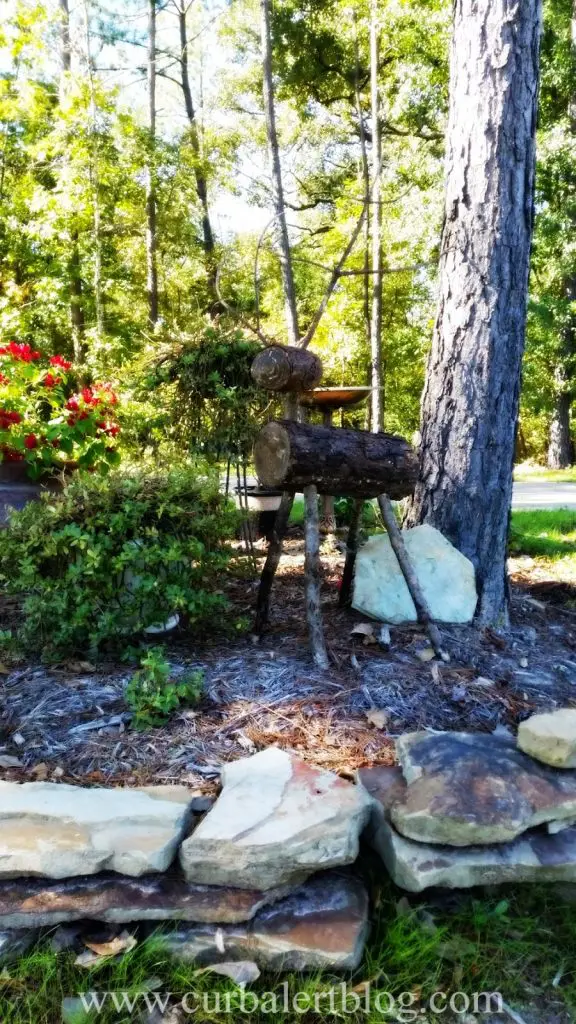 One final Woodsy Shot: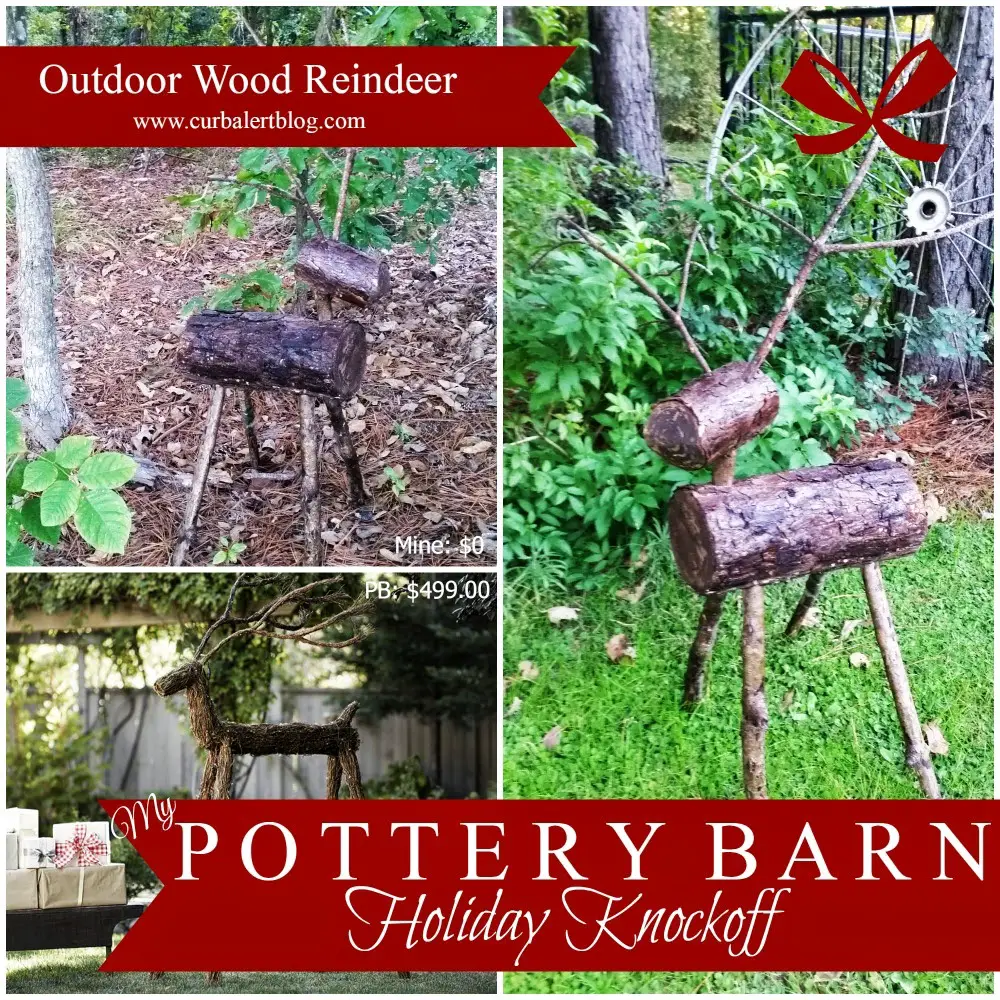 And some Pretty Shots!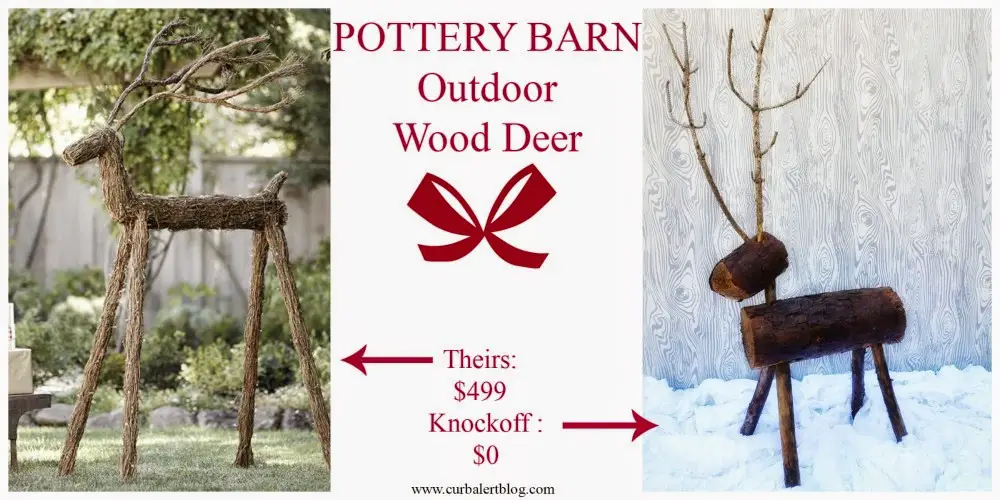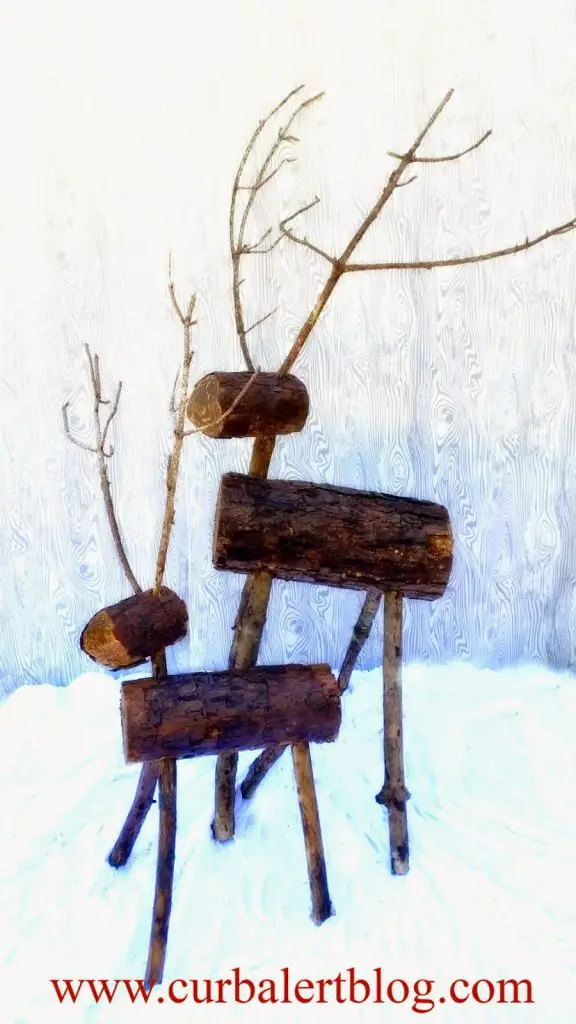 You can see my previous Knockoff Projects
HERE
.
And finally, just so you see how hard we bloggers work just to get you that "pretty shot", here's a little behind the scenes of my Pathetic Outdoor Wood Deer Photo Shoot!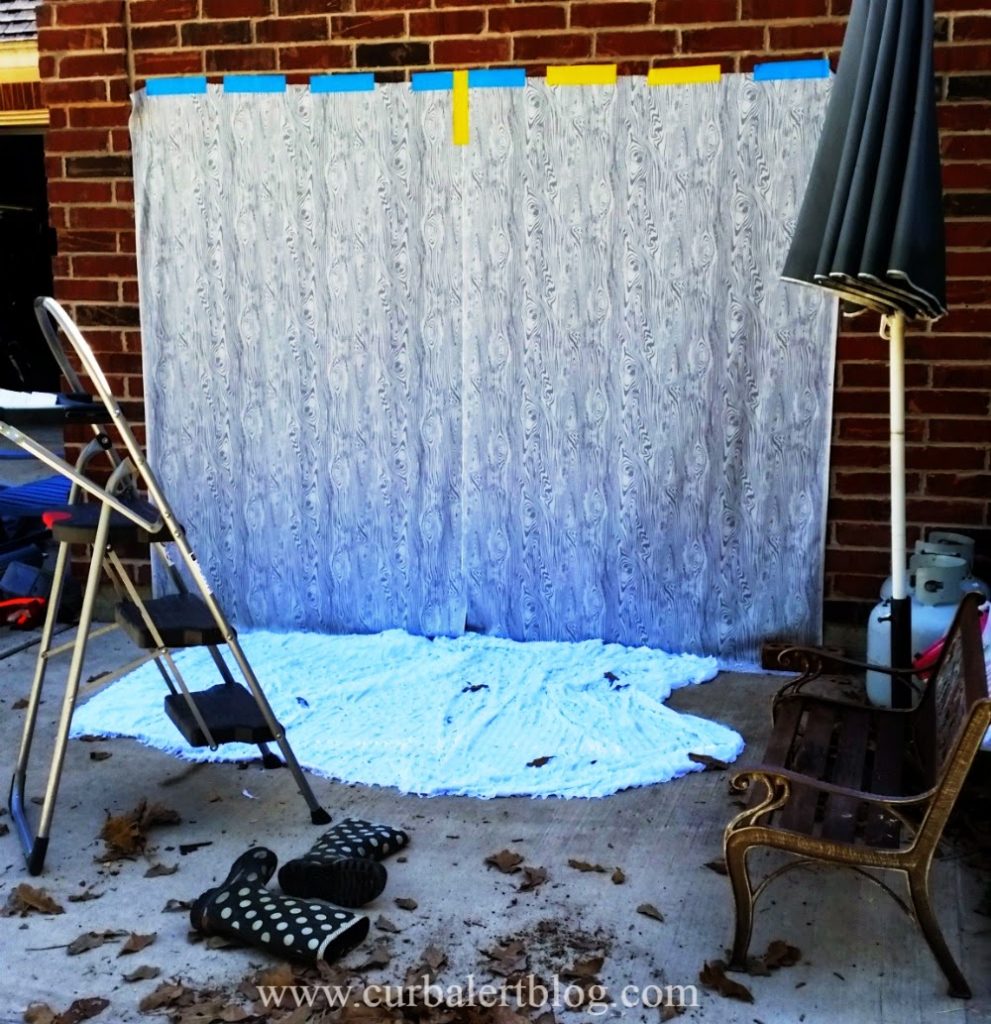 I have to laugh at my photography attempt as the wind was blowing, leaves were falling everywhere, bark chipping all over my white fluffy fabric, and my backdrop was not cooperating!
All outside just to get into the perfect light!
I'm sure my neighbors think I'm crazy! Oh well, I had fun!!!
Sharing this post over at TDC:
Now for the rest of the Holiday Knockoff Tour: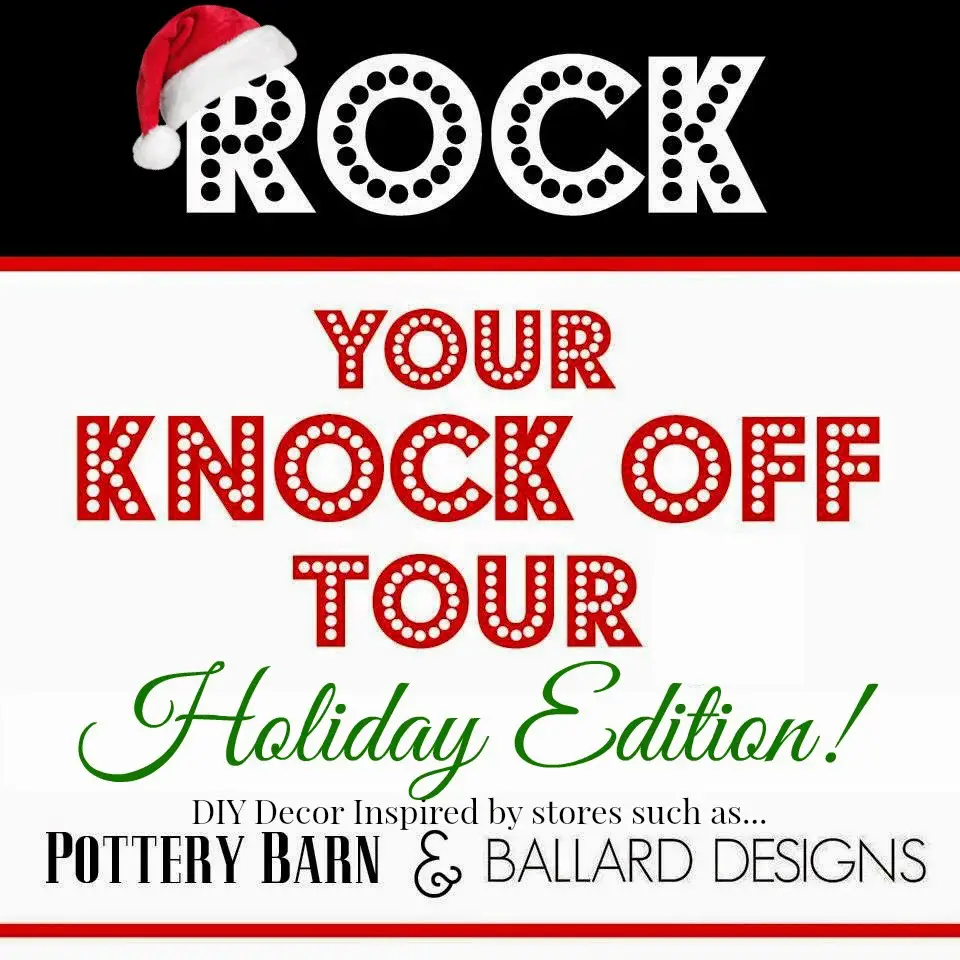 Let's see what my talented blog friends have come up with.
Be sure and check back all week as the links will be updated daily!