Need a great gift idea?  Well you cannot go wrong with something personalized.  It conveys that you spent that extra bit of thought for the recipient and is usually genuinely appreciated.
I am a sucker for monograms and I think they make for some pretty fabulous gifts, so I have a roundup of a few of my favorites and thought I would share with you!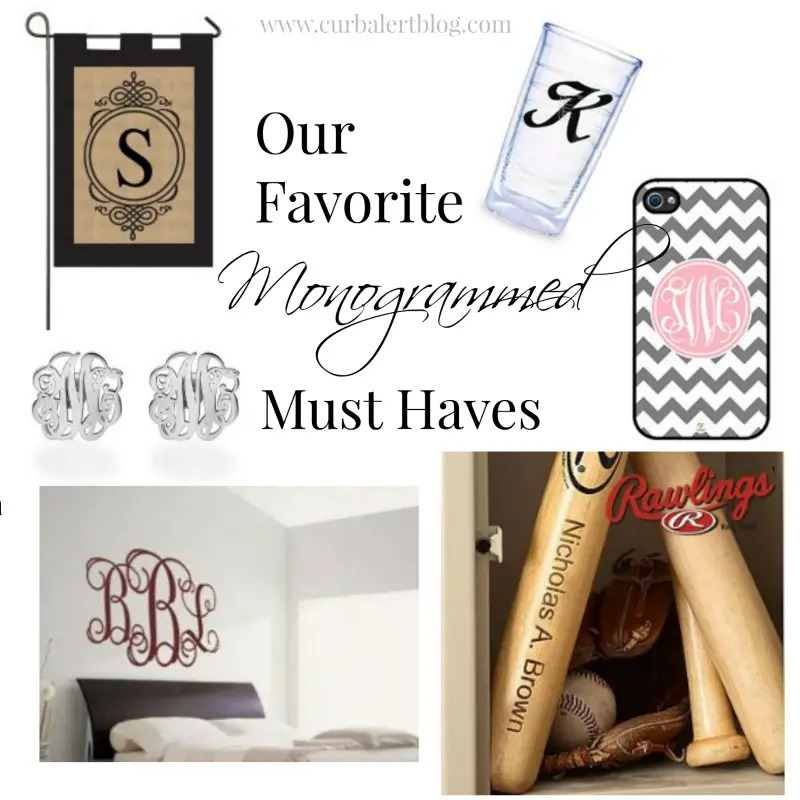 **Please note that there are affiliate links in this post. 
Monogrammed Gifts for Under $50
I purchased these at Christmas time for all of the teens and young girls in our family.  They were a big hit!  You can even change to a more masculine font for the boys.
Monogram Hat (Chamois)
My daughters are in love with these cell phone cases. So cute, and can't go wrong with chevron! 
iZERCASE Monogram Personalized Grey and White Chevron Pattern with Cursive Initials rubber iphone 4 case – Fits iphone 4 & iphone 4s T-Mobile, Verizon, AT&T, Sprint and International (Black)
Can you believe the price on this vinyl wall monogram?  I used to have a huge cursive M in my dining room and I loved it! Right now I have a much smaller version on my rear window of my car!  
My neighbor used to have this garden flag in her yard and I was so jealous!  I think it's about time I order myself one.
Evergreen Flag Garden Sub Burlap Monogram S
My sister gave our family personalized Tervis Cups last year for Christmas and I still use mine just about every day! 
Tervis Tumbler Black Laser Twill Initial – K 16-Ounce Double Wall Insulated Tumbler Set of 4
I think these little earrings are precious and priced just right for my younger girls. 
And finally, one more for the boys (and the sporty girls) who may not be into the script monograms but still like it personalized. 
Personalized Wooden Baseball Bats
I just love them all!  I would label my entire house with monograms if my better half would approve!  I love them so much! 
Which are your favorites?
**Please note that there are affiliate links in this post. This does not mean that you pay a dime more when you purchase a product through my website links. It just means I made it easier for you to find something, so I make a few cents when you purchase it. I so appreciate your support of the blog Curb Alert! Thank you!
~Tami