You are invited to our 
Tacky Sweater Christmas Party!  
Okay, you know our little party is not big enough to invite all of our blog buddies, but here is a sneak peek at the fun details.
The Invitation!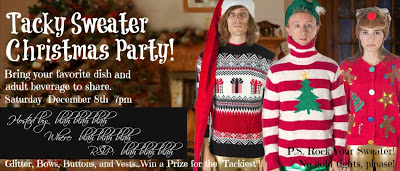 Isn't it fun! makes you want to grab your tacky christmas sweater, doesn't it?
Here is our 
Guest of Honor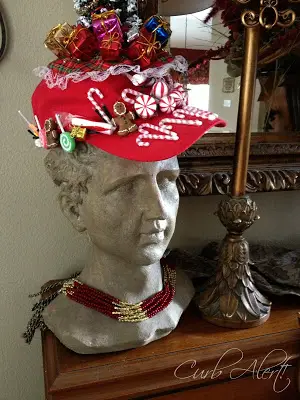 If you want that red necklace you can find it 
HERE
I really appreciate our local friends that rocked their Christmas sweaters in the balmy, hot, humid 85 degrees!  That was the only technicality, otherwise we had so much fun! 
It was so warm that this guy needed to cool off a bit. 
Frosty!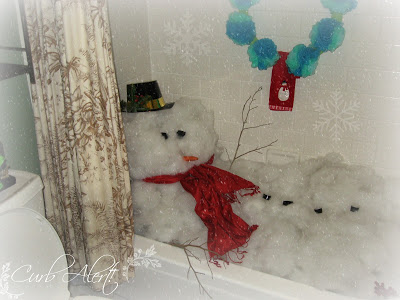 Remember how I made that silly Loofah Sponge Wreath
HERE
?
He got quite comfortable in our Frosty Snowman Bathroom!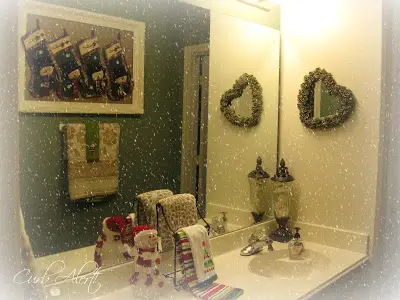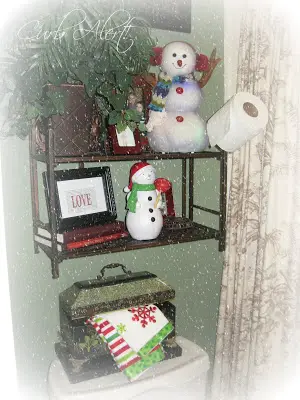 Speaking of bathrooms, we are right in the middle of our master bath remodel so decided to poke a little fun in there too.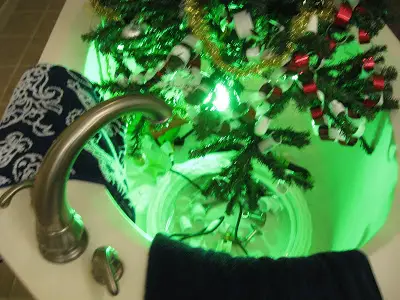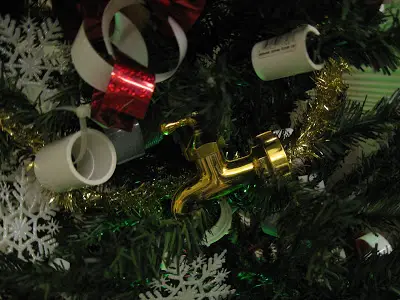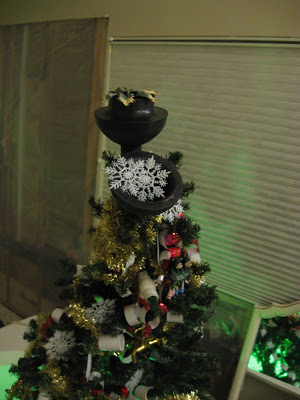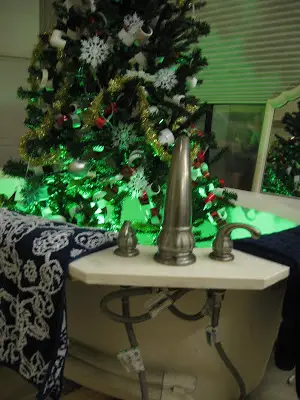 Enough about tacky bathrooms, let's get on with our tacky party! 
"You want me to wear WHAT?" says MyLove.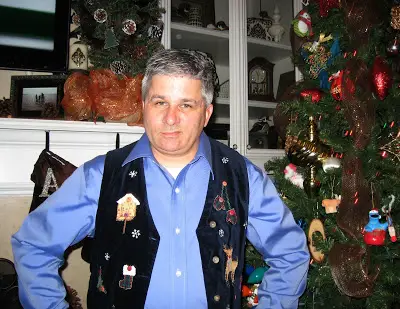 Luckily he is a good sport and helped out a ton! as well as my sweet co-hosts who made it so much easier to coordinate and facilitate.
How fitting the "queen of trash" throw a tacky party!
You HAVE to know I am not really trashy, its all in fun!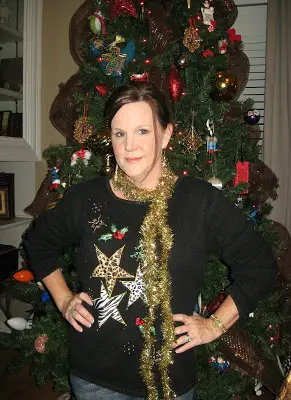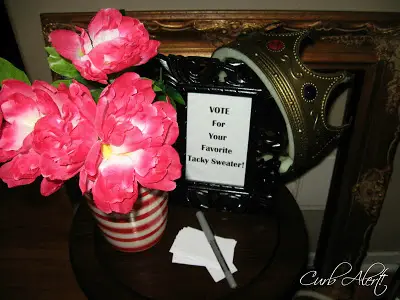 I kind of ran out of time and didn't get to embellish my sweater like I wanted to, but these guys sure did!
They really Rocked It and were voted as our winners!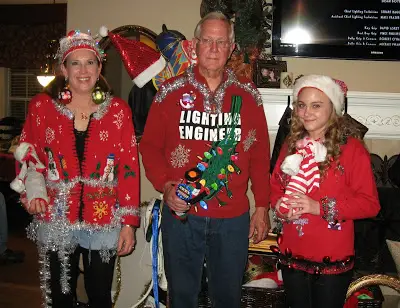 Welcome to our Photo Booth full of fun little props!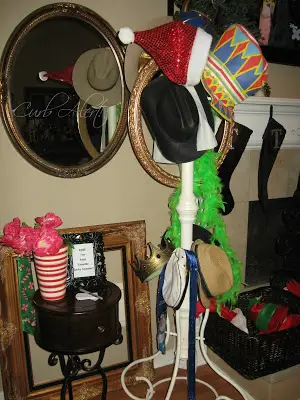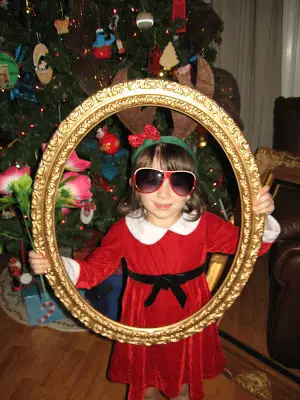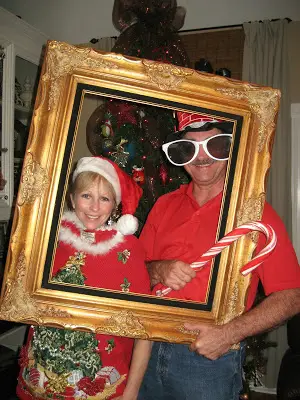 I LOVE the frame!  I purchased it from my friend's shop 
HERE
.  I know you are shocked that I actually PURCHASED it instead of finding it on the side of the road!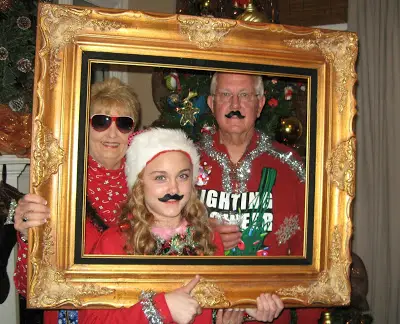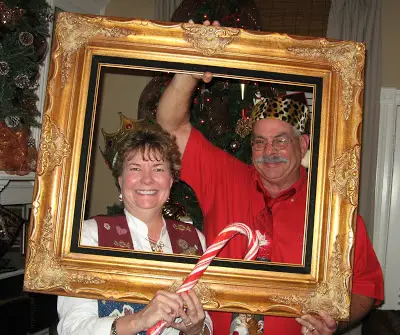 The above were a few of the brave ones that would let me publish their pics, the others tried on the props and laughed and giggled at the fun!
My sweet cohost…we should be in charge of all future neighborhood parties, we worked well together 🙂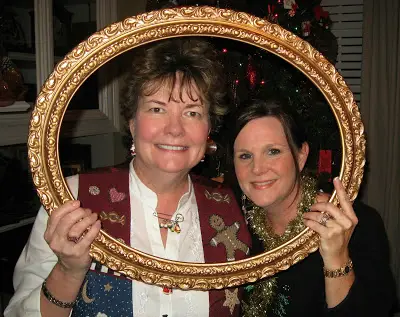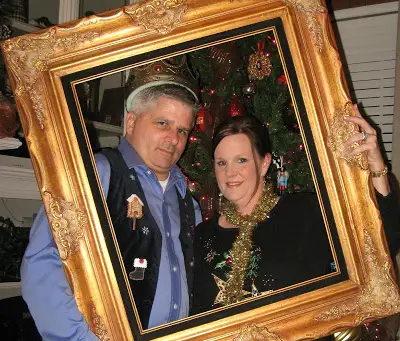 Almost forgot, the lucky tacky winners received a cheap fine bottle of wine dressed up in Christmas socks to look like sweaters (the younger winner was substituted with non alcoholic sparkler).  I felt kind of wrong taking a picture of them displayed in our advent candle centerpiece, but that's how we roll.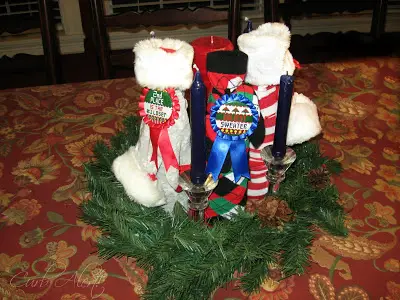 Jesus drank wine so God will forgive us, right?
By Sunday the Advent centerpiece was back in order and ready for it's reverent lighting. 
I have to say we had some fabulous guests that brought an abundance of holiday food.  I wish I had a picture of the table because there were so many delicious treats shared! 
And finally a little treat…our hot chocolate buffet.  I was excited to put my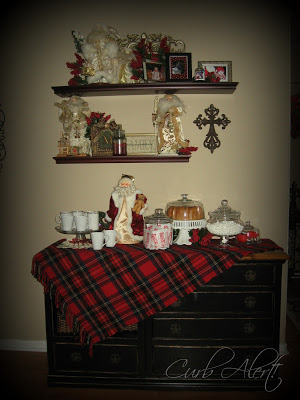 Anyone want some hot chocolate to go with our 85degree balmy weather? 
It was a fun thought, nonetheless!
And today it's a perfect 50degrees outside, gotta love that Texas weather, right?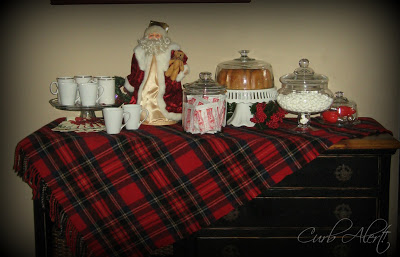 And here are my favorite babies pictured on their first Christmas's. 
Love them!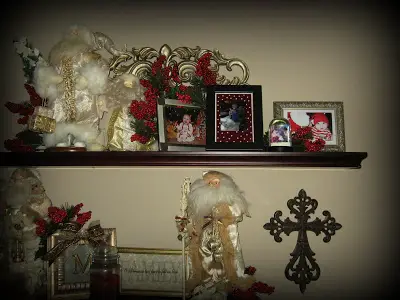 Finally, whew! Thanks for scrolling down through all of the pics.  I have tons more – it was hard to narrow them down.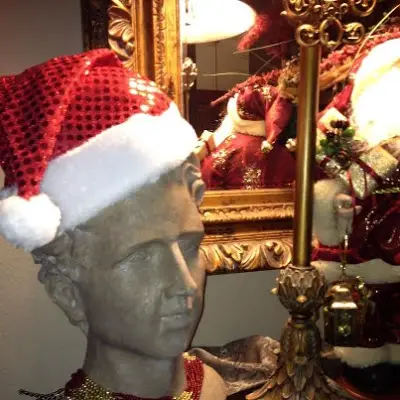 It was indeed a good evening.  On Sunday morning just when I thought we had everything all cleaned up, this little guy showed up!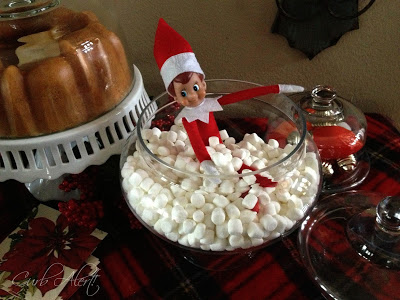 …and all of our other guests were gone!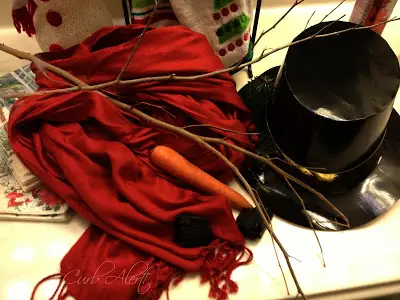 Have you ever been to a tacky sweater Christmas Party? 
Tell us all about it! 
Happy Treasure Hunting! 
~Tami 
Stay Connected with Curb Alert!