This is our beloved outdoor Picnic table top.
Let's call it Outdoor Table #1
Free Picnic Table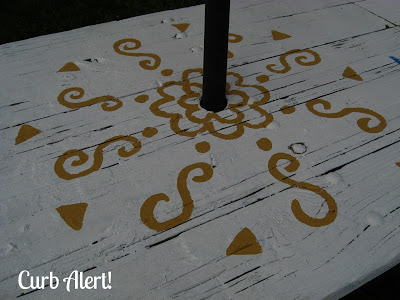 It's very old and belonged to My Love before we were married – therefor I inherited it for free.  It has iron legs and heavy boards on top making it weigh a ton! 
I mostly use it to spray my painting projects until one time a year the kids and I spruce it up for our annual luau party.  Luckily My Love doesn't mind.
Before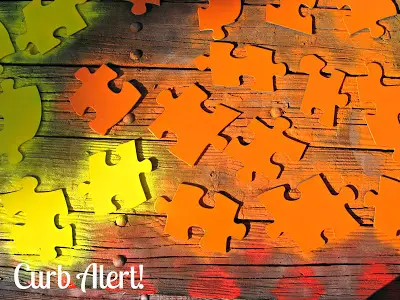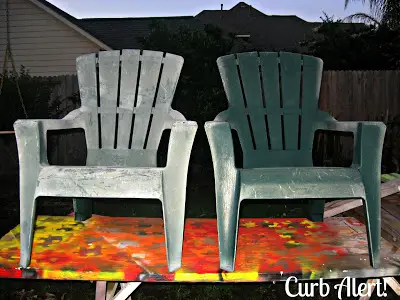 Now After, Much Better!
  I just used Kilz primer to paint over all of the project paint and then started painting designs on it.  My kiddos did the rest (not pictured).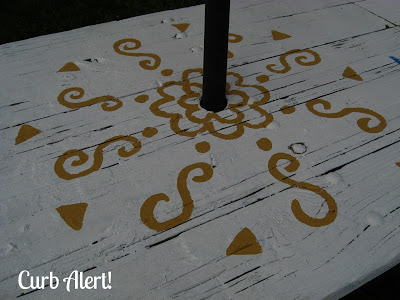 Outdoor Table #2
Free Iron Table and Six Chairs 
(sort of if you don't include the cost of paint)
A few years ago I was having a garage sale at my mother-in-law's house and her neighbor asked if we wanted a rusted old table to either have or sell in the sale.  
We had just moved into a new house and had no outdoor furniture at the time (pre-CurbShopping in this neighborhood!) so I quickly begged agreed to keep it (I'm not too proud).  
She even helped us load it up in the truck!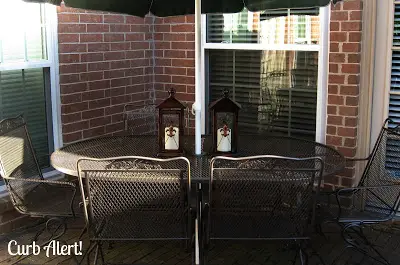 We had to put a "sold" sign on it so people would quit asking about it.  It was a hot item! 
We spent an afternoon with a wire brush to brush off the rust and then sanded it all really good. 
We spent almost $80 in primer and Hammered Bronze spray paint to clean her up and she turned out beautiful.
I gulped at the $80 of paint until I was in Tuesday Morning awhile back and saw this set.
Table and 4 Chairs for $299.99! 
That was the 50% off price!
Not feeling too bad now.
The details are very similar to ours.
Tuesday Morning Table Detail: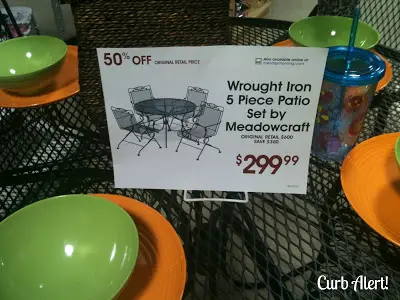 Our Table Detail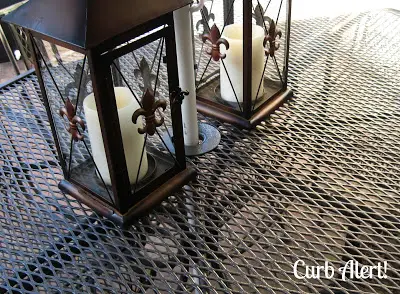 The lanterns were purchased last summer from my favorite store Kirklands.
 (I don't get everything for free, sheesh!)
Tuesday Morning Chair Detail: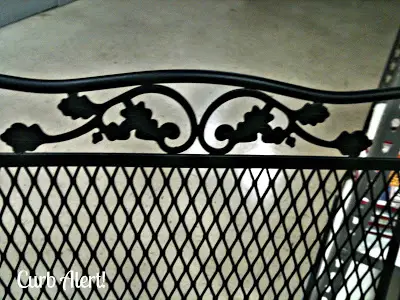 Our Chair Detail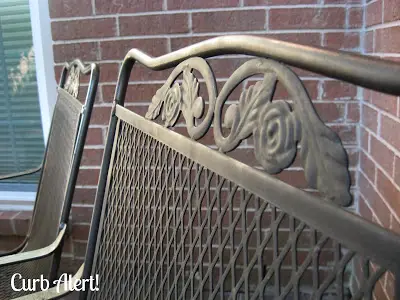 Another shot at our table.   We have had many family outdoor dinners on this table, it's a keeper!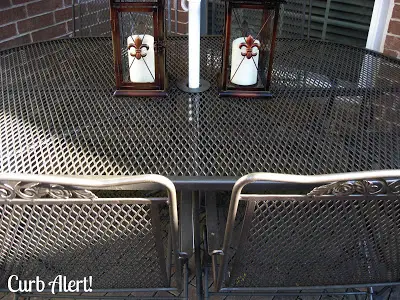 Outdoor Table #3
Neighbor's Curbside Table and Four Chairs
Free
A few months ago one of my neighbors a few houses down was moving and put this set out on the curb. Great condition! 
I took a quick picture on my phone and walked back home.  After a few moments I thought well dang, I hate to pass that up so I went back over to his house (again, not too proud) 
He was out watering the yard at the time and I just walked up and asked if he wouldn't mind if I took the table and chairs.  He quickly agreed and helped me to carry the set over to my house.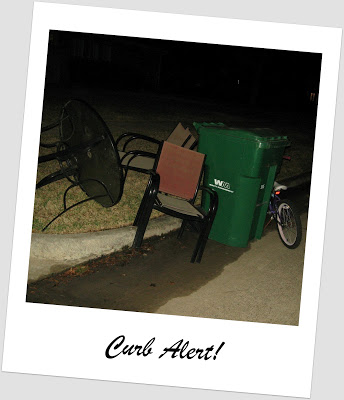 It sat on my patio for about two months in the same shape as I found it.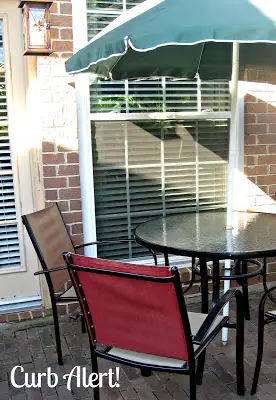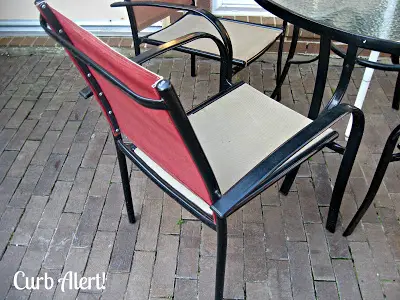 Finally this weekend with our big party a day away, I decided to take the chairs apart and refresh them a bit. I purchased only one can of a reddish-burgundy color spray paint (I tried to keep it as close to the original for simplicity sake) and for a $3.98 makeover, I was very pleased.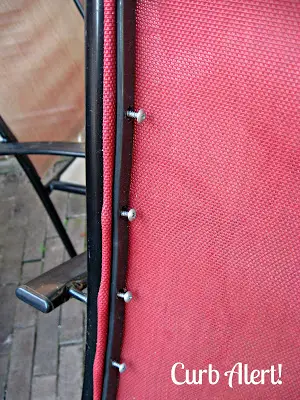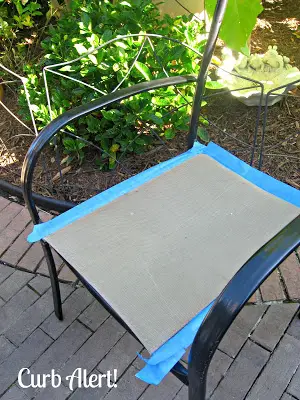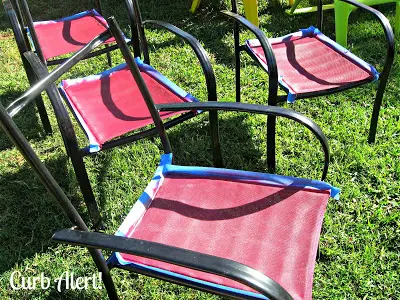 Look how much these chairs each costs at a nearby store that rhymes with Tallmart!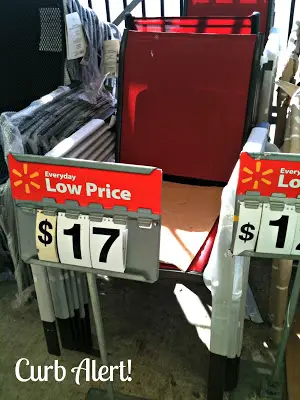 One can is all it took so $3.98 sounds a lot better to me! 
Here they are now…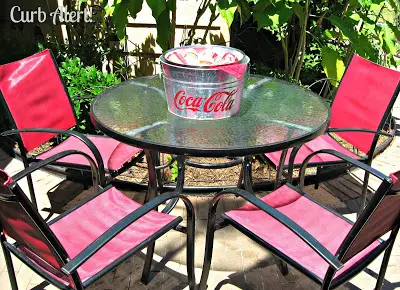 …all dressed up with my favorite chilled beverages.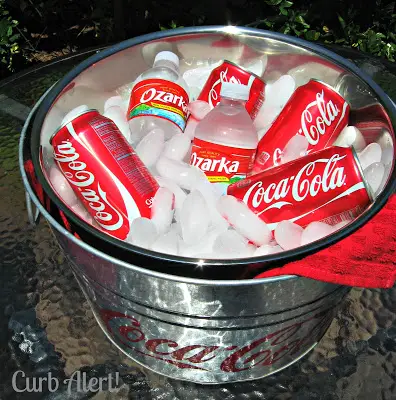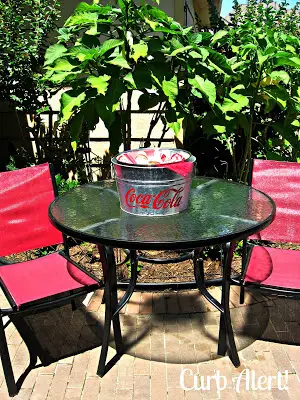 If you have been with me since Curb Alert! was a blog baby, you may remember the next two tables that I wrote about
HERE
. 
I found them pre-blog so I do not have before pictures but boy do they clean up well after! 
Outdoor Table #4 
Curbside Wicker Table and Chair
Free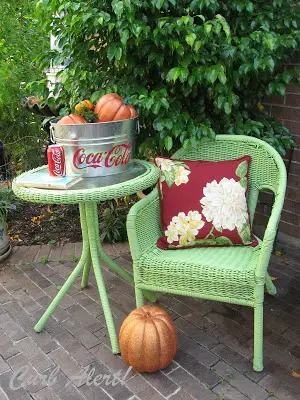 I loved this set and used it for about a year.  A few weeks ago I gave it to my neighbor to take up to her lake house.  She was so excited about it and besides, it will look so much cuter up there.  Notice the red pillow and reoccurring Coca-Cola theme that class it up!?! 
Outdoor Table #5 
Iron Table
Free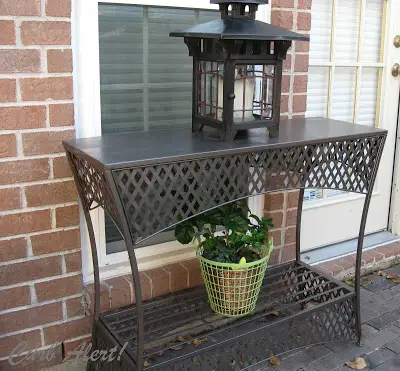 This table was so dirty and shabby but cleaned up pretty in no time!  I am so glad that I picked it up! 
And there you have it.  
A little summary about my outdoor tables.  I guess that (
like my bench obsession
) would deem me as having a bit of a table obsession as well! 
I love them all!
Do you collect anything or consider yourself obsessed over a home decor item? 
Oh Do Tell!!!