Here is a Before picture of our kids/guest bathroom.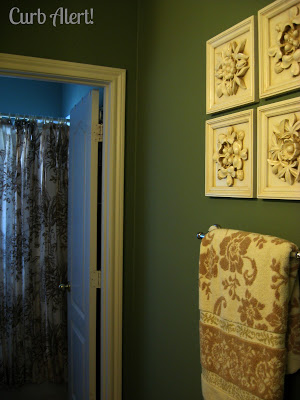 The paint color is the same as when we moved in 5 years ago … a light sage green.  I love green so it has stayed "as is" for awhile.  This bathroom gets a lot of use from our kids and is our guest bathroom, so I try very hard to keep it clean and ready for visitors. 
I love palm trees and found the shower curtain last year at Target.  I actually purchased two to have more of a gathered effect.   It's still in great condition so it stays.  
In April I purchased new "pretty towels" from Walmart to match.  So far I like them and the kids have respected mom's "don't you dare touch the pretty towels" request.  Their towels hang behind the door right next to the shower.
The little floral frames were purchased from a garage sale years ago.
I need a little refresh, an inexpensive update – beachy maybe?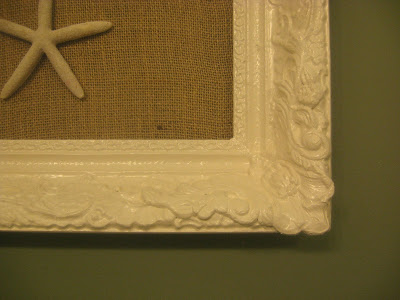 How does discussing my bathroom lead to the following trash heap?  Well, I found some inspiration in there, read on…
Butterfly begged me to bring her lunch the last week of school which means drop it off real quick and then rush out before anyone sees who mom is!  That's okay though, she's a good kid and deserves some 
Chick-fila every once in awhile during the school hours. 
On my way to school I drove by this: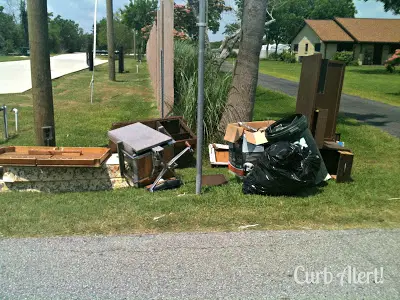 Of course I scoped it out but 1. It all smelled like cat pee and 2. It was a bunch of old broken furniture. 
One thing caught my eye though.
A broken white Ornate Frame, you know how I am obsessed with pretty frames. 
I dug it out and grabbed it, overcoming complete embarrassment just as the trash men pulled around the corner to pick it up.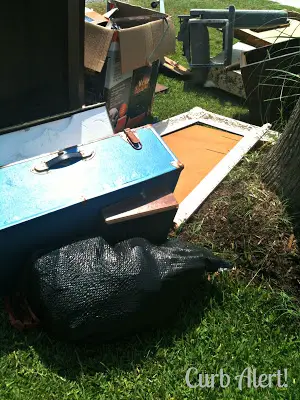 It was in pretty bad condition but once I got it home I was determined to salvage it. 
I first pieced it together and glued it.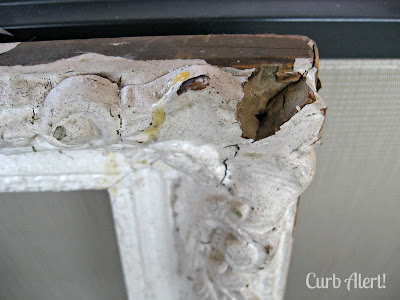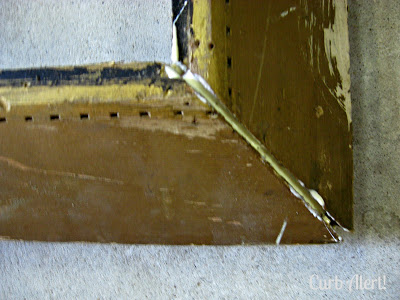 Then braced it and put brackets on the backside with L-Brackets that I had leftover from my Outdoor Bench project.  I tried my darnedest to secure it so it would not fall apart again.  (Dry for two days in the Texas 95degree heat)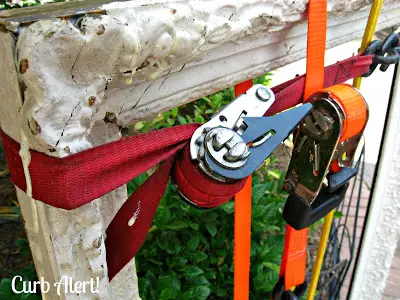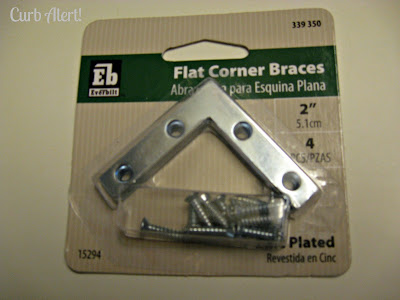 hahahaahahahahahablablablablablabkalshfwrgihw/gh/HG/lehgguHGUIHGwdggblablabla bla bla bla 🙂
                                  -K Was Here!!!!! 🙂
Greeaat…LadyBug decided to Hack my Blog while I walked away for a moment – silly girl, now go to bed!
I then scraped a bunch of the paint off, cleaned and SCRUBBED it real good to get the dirty "gross" off and then puddied and caulked it to fix all of the broken chipped areas.  I was really second guessing myself at this point and almost ditched the project all together because it was still all chipped and yucky looking.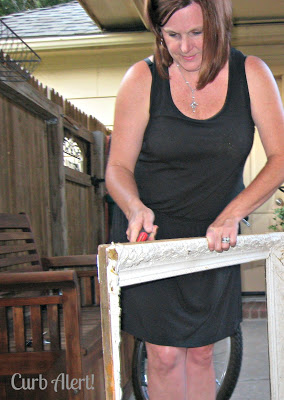 Someone decided to take a picture! Ugggh!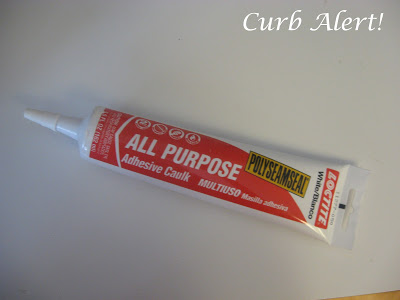 But after putting it away for a few days and then returning with some tedious resculpting the ornate portions, I started to feel better about it.  Trust me (I don't have a picture of the painting) but a can of Rustoleum Heirloom White saved the day.  It transformed the frame into something pretty.  I finally had hope and decided it was definitely going up in our bathroom, hence the reason for starting off with the pic of my bathroom.
I gathered some supplies and stapled burlap to the back of the frame.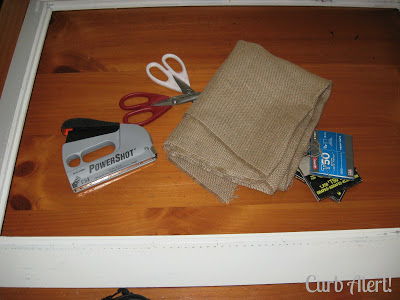 Much Better!
Now let's stick with the palm tree theme and dress it up a bit to make it 
 look a little more beachy for summertime.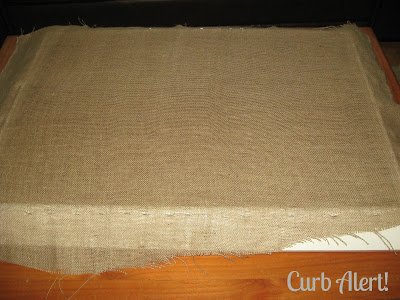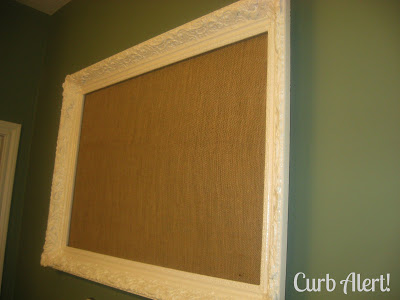 Almost forgot to mention, I trimmed the edges of the burlap right up next to the staples then hung it up on the wall.
Gathered some beachy items that I had on hand and some pictures of my precious ones strolling in the bluebonnets (not beachy but outdoorsy and pretty – close enough!).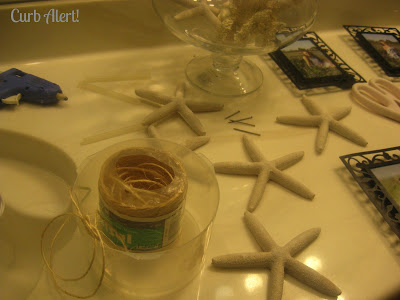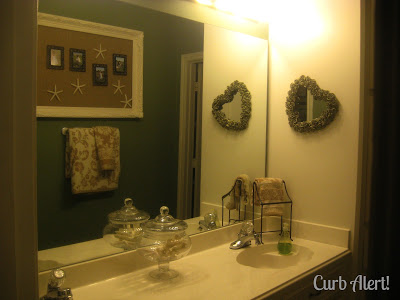 This is a small bathroom so it's difficult to get the lighting just right especially with those darn 20 yr old gold globe Hollywood Lights!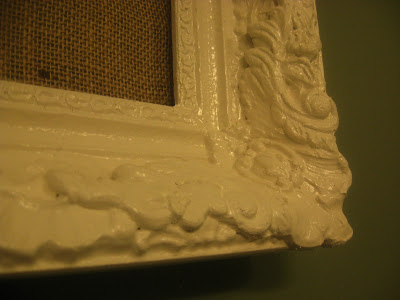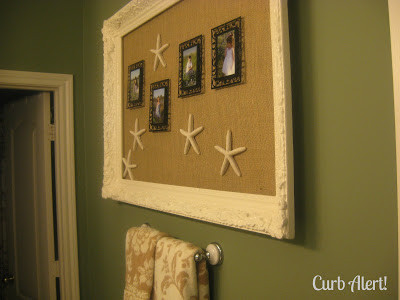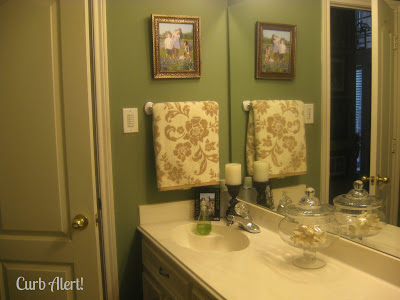 The final touch is my favorite Apothecary Jar filled with coral (fake, of course)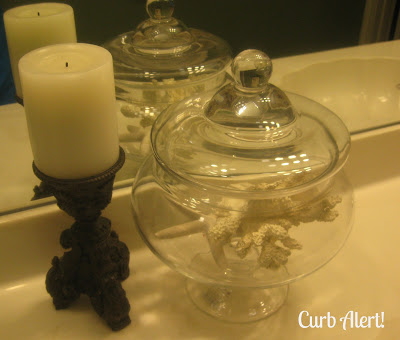 And the aroma of the beach from my new "Beach" scented Scentsy – a gift from a friend just in time for my quick bathroom makeover.
Next on the list: 
1.  Construct molding around the mirror
2.  Install my Gianni Granite Countertop Paint Kit that I won over at Debbiedoo's blog!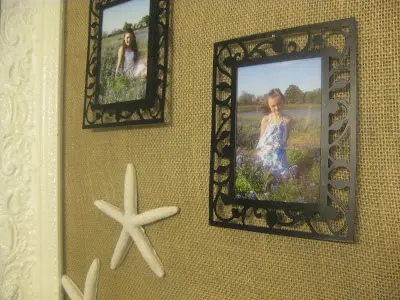 What do you think?  Would you feel welcomed in our Guest Bathroom?  I promise the kiddos clean up their towels off of the floor before guests arrive – most of the time.
Thank you so much for stopping by and visiting our bathroom and checking out my new to me 
Curbside Ornate Frame. 
I love finding decor items in the most peculiar places!