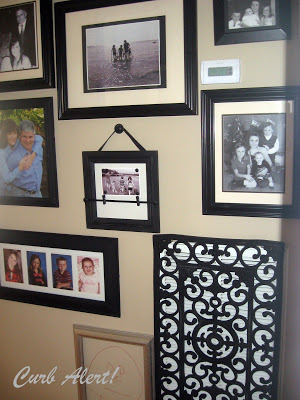 While browsing through my newest 
crack addiction 
Pinterest
(I'm sorry, I am addicted!) last night.  I was looking through some home decor items and came across a Return Air Vent Cover.  Not just any ordinary one but this one at
*Please note that this post contains Amazon Affiliate links for your convenience*
Upon further research I was shocked to find out that it can be purchased for a whopping $529!!! Whoa! Get outta here!
I had a BRILLIANT idea I tell ya – BRILLIANT!  I have this decorative outdoor rubber mat already sitting at my front door just waiting for a new life.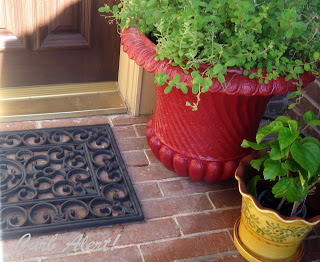 I cleaned if off a little with some Armour All tire cleaner.
You can purchase the same doormat from Amazon, here…
Kempf Rubber Scroll Doormat Rectangular
for less than $20!
Here is a Before shot of my Gallery Wall where the AC Return Air Vent is beautifully displayed right there one the edge of it.  Pretty difficult to hide as it is right outside of my guest bathroom! There is also a second one located above all of the pictures as well!  Double Trouble!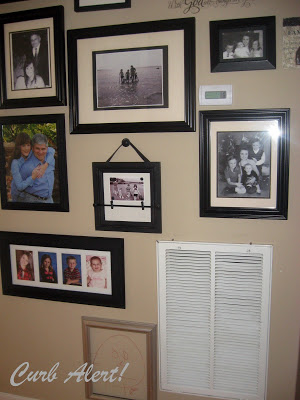 I just put in two screws and hung up the door mat.  So easy!
Here is a closeup of the Air Conditioner Vent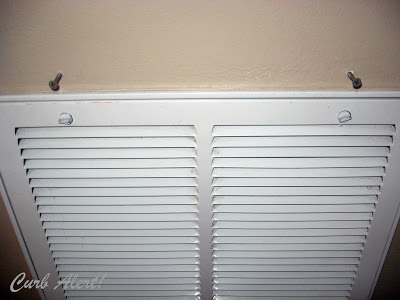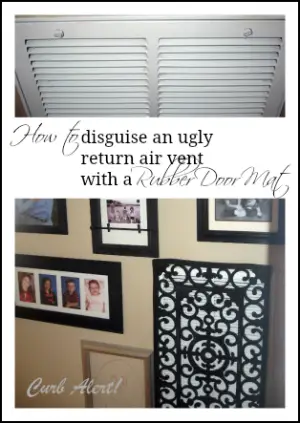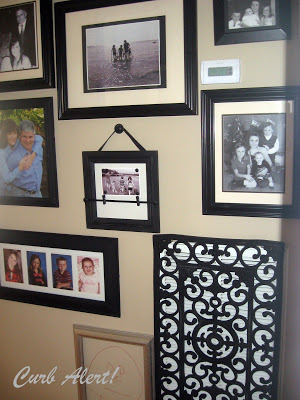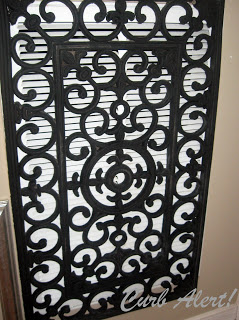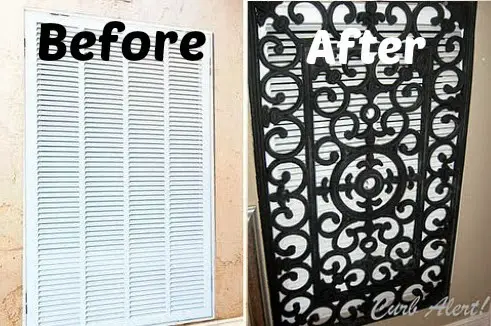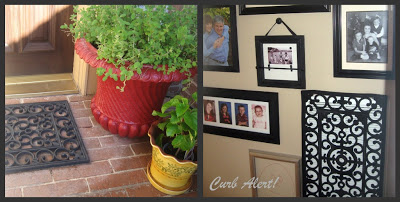 I may not be Brilliant but feeling a little awesome at the moment.
Nothing like a little bit of instant gratification!!!
Okay, but here are the disclaimers before you try it yourself:
1.  When searching for a rubber door mat, try to find one that allows plenty of airflow, meaning that the door mat has a large amount of space in between the rubber sections.
2.  I have two air vents, a second one is located about 4 feet above the one shown and I have decided to leave it as is and unobstructed for maximum airflow.
3.  I have consulted with our HVAC Air Technician and he has agreed that the doormat leaves proper airflow for our home based on our own situation, definitely consult with your own Air Technician to ensure that you get proper airflow before using it on yours. Our technician was already on call for our yearly checkup so it was no additional charge to check it out.
4.  Open up your airvents a little by raising up the individual vent panels with pliers to allow even more airflow.
I think it looks great!  Definitely a LOT more appealing than the white air vent!   I love how it took me a total of about 5 minutes to complete this project and cost me a whopping $0 (BAM!-high five from My Love right there, although he will probably think it looks stupid on the wall).  That's okay, that's why he's in charge of "making the donuts" and I am in charge of the home operations!
Remember you can easily purchase one for yourself here…
Kempf Rubber Scroll Doormat Rectangular
Have a great day!
~Tami