Do you ever come across great items at the resale shop, only to find out someone else got their hands on it first?  In this case..their PAWS!!!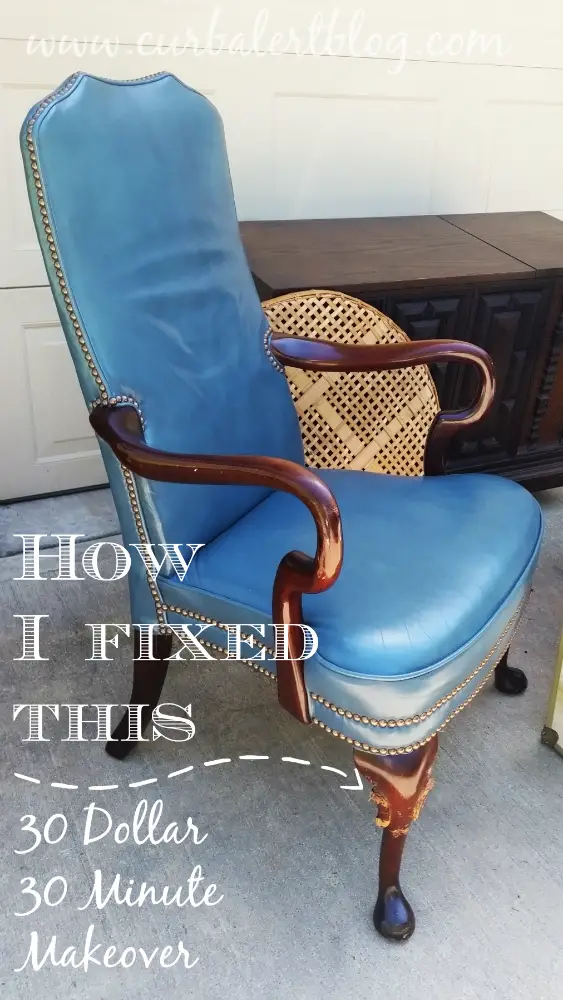 I fixed this 30 Dollar Chair in only 30 Minutes.
With the right tools you can too…let me show you how!

A little puppy had a hay-day on this chair and I guess someone threw in the surrender towel and had to get rid of it (the chair)!  Genuine leather, what a shame that the wood was destroyed…so you would think!
I paid thirty dollars for this chair and with the right tools and thirty minutes I transformed it into its former glory!  It was so easy.  Here is a closeup on the damage.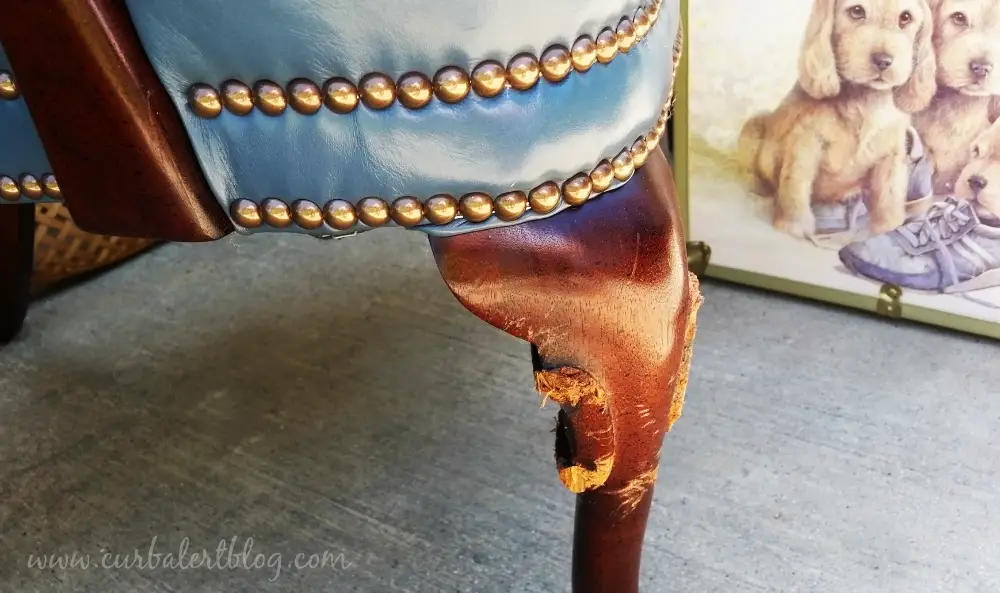 Now let's get to work!
Please note that this is not a sponsored post but there are some affiliate links below.  I am sharing because I love these products and hope that you will too!
I used my favorite tool ever!  The Rigid JobMax  It has so many cool attachments making everything on hand for a quick workout.   I first cut off the chewy parts, trying to keep with the same lines of the chair legs.
Seriously, it cut it like butter!  but the cool thing about it is that you can touch it and it will not pierce your skin, so no danger of getting hurt!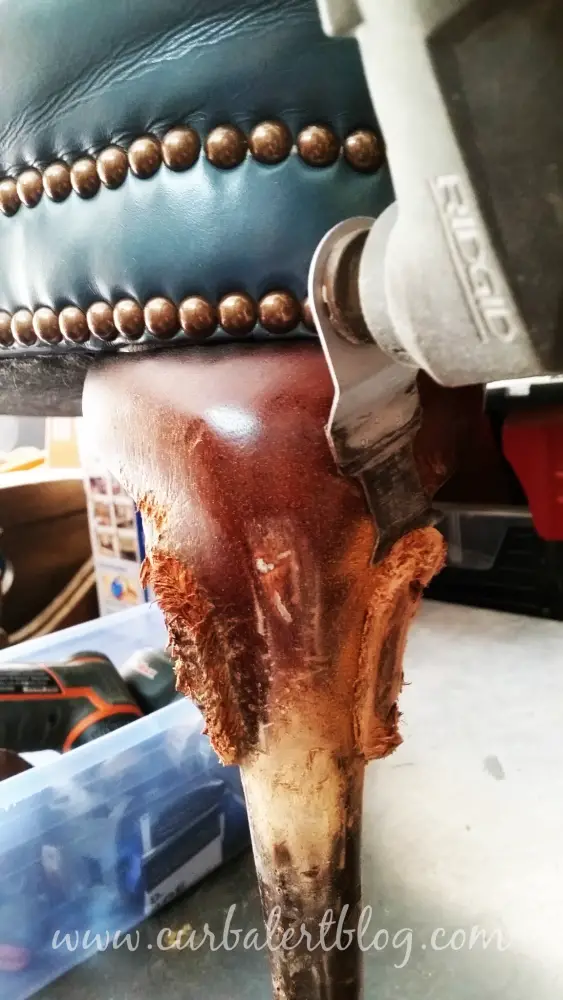 I then changed attachments and used the sander head.  It's the perfect size for this project.  I have also used it so many times on the intricate parts of my bench makeovers.  It cuts sanding time in half!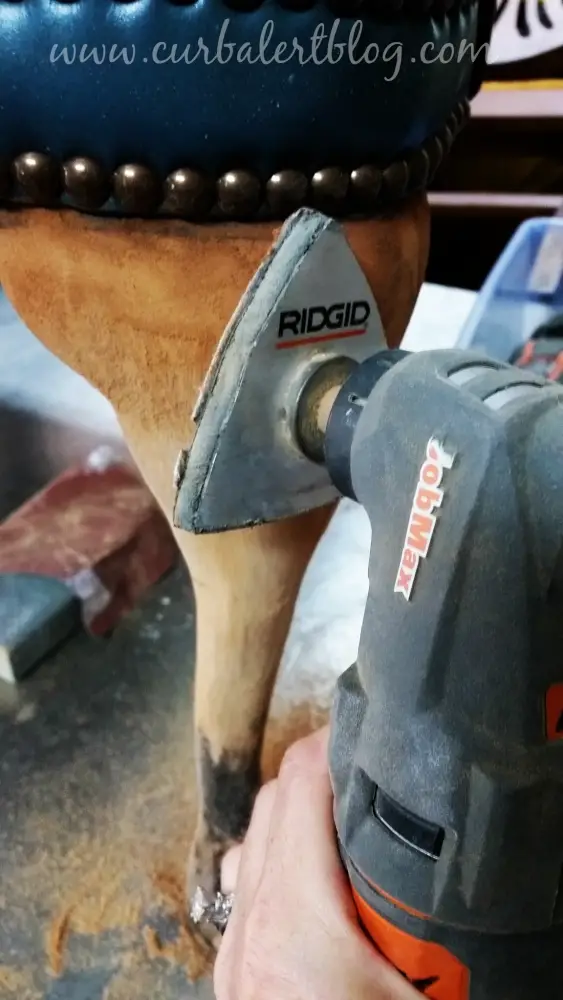 Seriously that took about 15 minutes!
I then used 220 and 400 grit sandpaper and finished it off by hand to make it as smooth as possible. 
Here's a little before and after combined shot.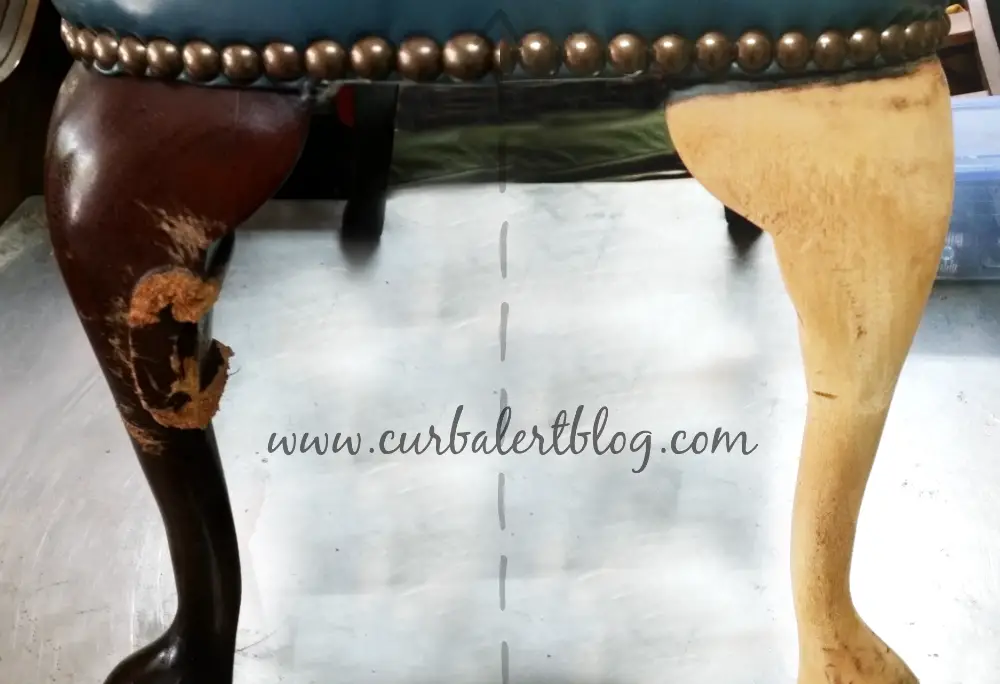 Major difference.  I am loving it already. 
I then stained it with my favorite Dark Mahogony Minwax Stain and Quick Drying Minwax Gloss Polyeurathane.
That was it, job done!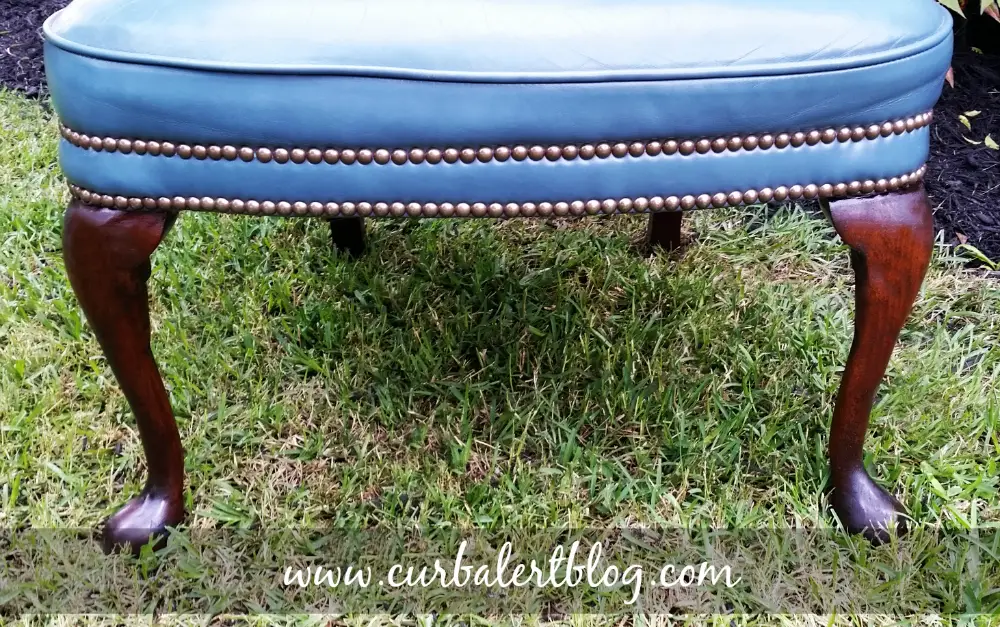 From the looks of it now you would never know the puppy got ahold of it!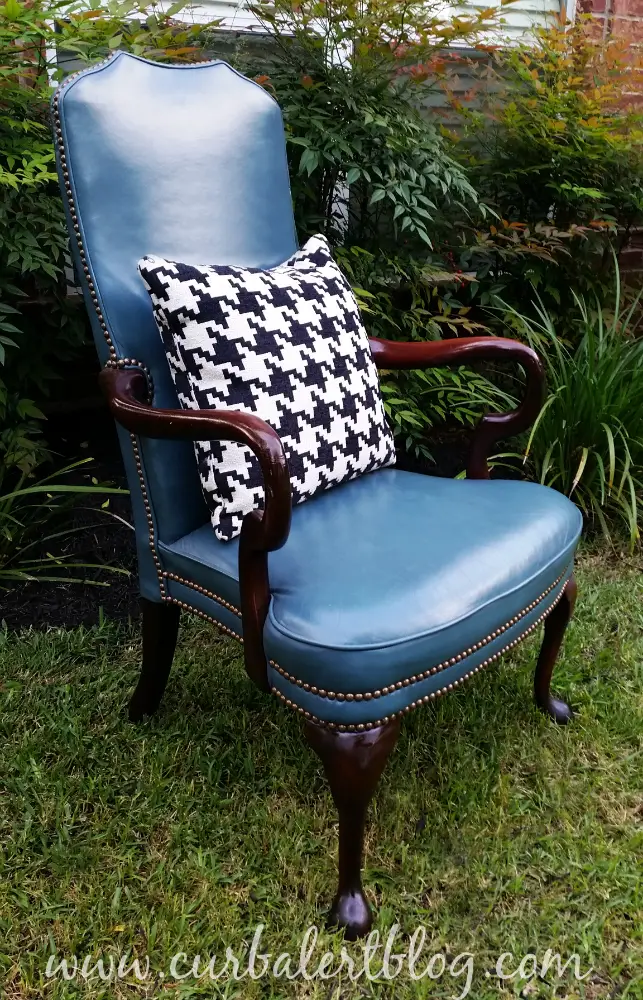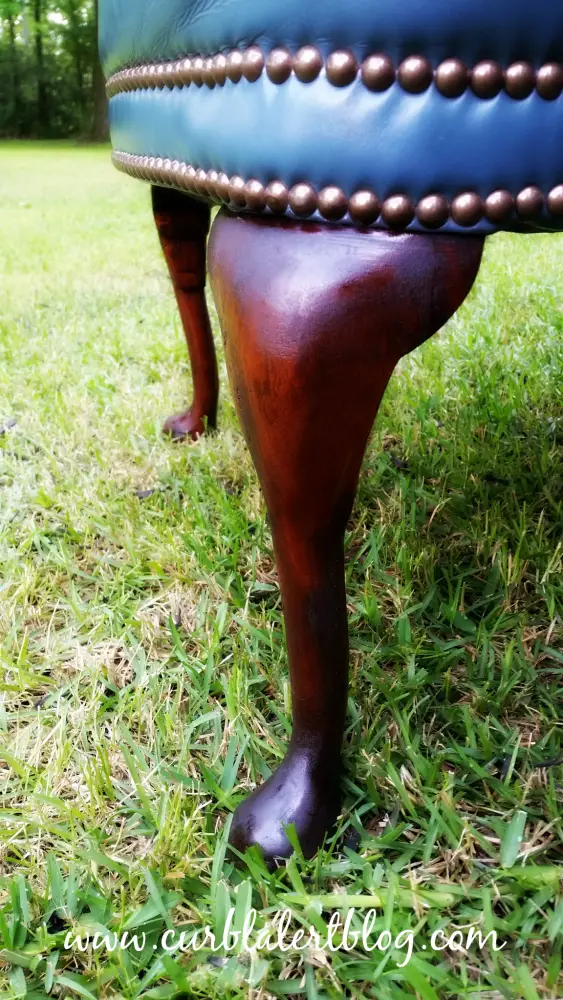 I wish I had a place for it but I cannot keep everything.  I put it up for sale and doubled my money on it.  Not bad for a 30 Minute Makeover!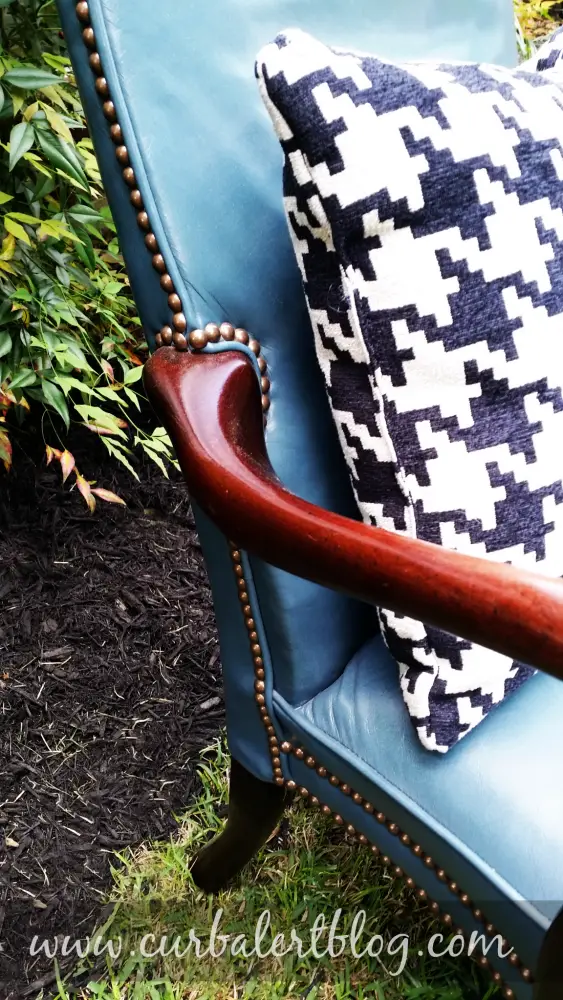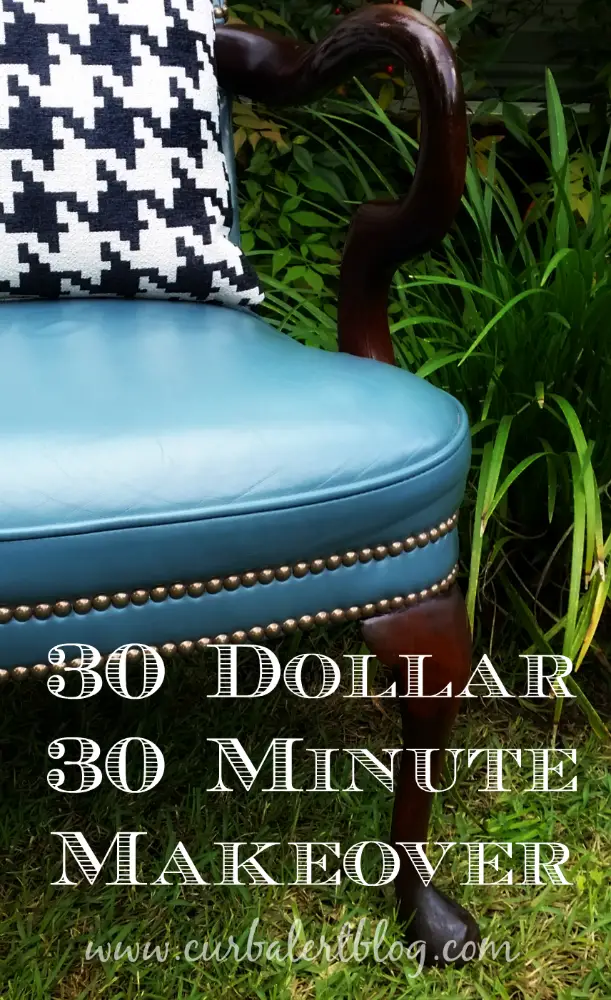 **Please note that there are affiliate links in this post. This does not mean that you pay a dime more when you purchase a product through my website links. It just means I made it easier for you to find something, so I make a few cents when you purchase it. I so appreciate your support of the blog Curb Alert! Thank you!
Here is a recap of my favorites!  I already had these on hand so was able to stick with my $30 initial investment on the chair.
Minwax 70012 1 Quart Wood Finish Interior Wood Stain, Dark Walnut
(depending on the original color of the project)
Minwax 63000 Fast Drying Polyurethane Clear Gloss, Quart
Don't ever be afraid of wood repair-it's worth a try!
Hope you have a great day! 
~Tami