Yes, you read that correctly – Tomato Cage Topiaries. I love topiaries so much that I made not only one, but two topiaries out of tomato cages and I LOVE THEM!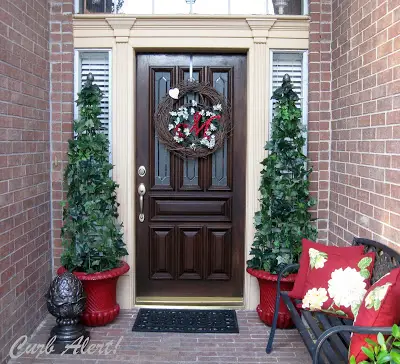 Here they are and not too shabby I must say. Must not have been much of a green thumb because looks like nothing much was growing on here. You may recall what these are used for, hence the name.
Well we have this guy and he eats everything in sight, including Internet stalkers, so that is out of the question. Notice how he is laying in the bushes and knocked over my yard decor? He looks really mean here, doesn't he! (GROWL DOG, GROWL!)
Now on to these beautiful fabulous topiaries. I am so proud of myself that I implemented my crafty plan in only a few days. It helps that my materials were easily found at our Dollar Store. They had some 4′ leaf garland and floral wire so I purchased all of the ivy looking vines that they had. I believe I spent around $32 total for this project and it took me only a few hours to complete.
This floral wire was amazing and so easy to use with it's own little cutting device, snap and you're done!
I tied up the top of the cage wire, draped the garland from top to bottom and then meticulously wired the garland onto the cage at every intersection. I used 15 strands of garland for each topiary. I may go back to add more when they restock their ivy but for now I think they turned out great.
It was so easy to attach since the garland had little loops at both ends.
I am sure Hobby Lobby carries fuller garland but I am not willing to spend $19.99 and $29.00 per strand, this girls on a budget so Dollar Store will suffice!
It still didn't seem finished so I used a finials that I had on hand and toilet paper tubes and constructed a little topper for each topiary. It looked a little shotty at first but once I painted it, it really was the perfect added touch that the topiaries needed.
Don't they look great! I think they are cute with the red planters and pillows.
Perfect for Valentine's Day.
Red pillows: $10 ea Walmart (2011)
Doormat: Home Depot (2005)
I had such a fun afternoon putting these topiaries together. I hope you enjoy them as well 🙂